Sith Training
DARTH MAUL


Source: Expanded Universe -
(Prior to The Phantom Menace)

Collection: Dark Warrior

Year: 2006

Number: SAGA-053

Assortment: Basic Figures

Retail: $6.99

Assortment Number: 87321/85770

UPC Number: 6 53569 21619 3

Weapons and Accessories:
Metal Lightsaber Hilt
2 Lightsaber Blades
Sith Probe Droid
Hovering Support Base
Display Stand
Species: Zabrak
Handy with: A Sith lightsaber
Wishes to: Exterminate the Jedi
Comments: The chosen apprentice of the Sith Lord Darth Sidious, Darth Maul has undergone years of demanding and sometimes brutal training to become an incredible warrior for the ancient order of the Sith. After expertly wielding his lightsaber to prove his skill, he bows respectfully before his master.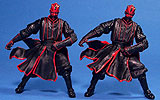 Watch Darth Maul's "action features" in action!
Points of Interest:
This Darth Maul figure is a repack of the SAGA Darth Maul (Sith Training) 02-42 figure.
The display stand has the wrong logo. It should be The Phantom Menace.
Photography by Dan Curto
Also included with this figure is a folding pamphlet that shows other toys in The Saga Collection.

Back To Basic Figures