CHEWBACCA
with Electronic C-3PO


Source:
(The Empire Strikes Back)

Collection: Cloud City Capture

Year: 2006

Number: SAGA-054

Assortment: Basic Figures

Retail: $6.99

Assortment Number: 87322/85770

UPC Number: 6 53569 21620 9

Weapons and Accessories:
Blaster
Cargo Net
C-3PO Head
C-3PO Torso
C-3PO Parts
Display Stand
Called a: "Walking carpet" by Princess Leia
Homeworld: Kashyyyk
Freed from slavery by: Han Solo
Comments: Captured upon their arrival at Cloud City, Chewbacca and his Rebel companions are apprehended by Darth Vader in hopes of luring their Jedi friend, Luke Skywalker, into a trap. While in solitary confinement, Chewbacca takes solace in re-assembling the dismantled C-3PO.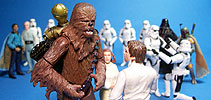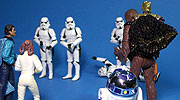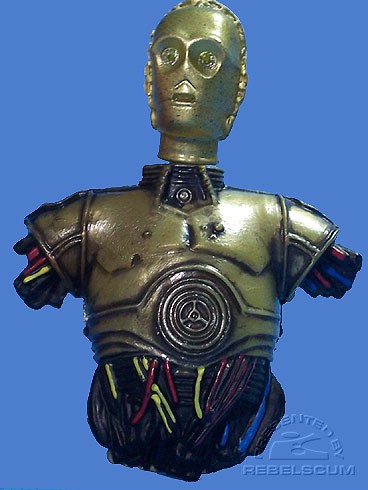 Roll your mouse over the image above to see C-3PO light up.
Points of Interest:
This Chewbacca is a repack of the SAGA Chewbacca (Cloud City Capture) 02-38 figure.
The C-3PO parts have been repainted in this set.
The display stand has the wrong logo. It should be The Empire Strikes Back.
Photography by Dan Curto
Also included with this figure is a folding pamphlet that shows other toys in The Saga Collection.

Back To Basic Figures