MACE WINDU's ATTACK BATTALION
Battle Pack


Source: Expanded Universe -
(During the Clone Wars)

Year: 2006
(Target Exclusive)

Assortment: Battle Packs

Retail: $19.99

Assortment Number: 87110

UPC Number: 6 53569 16085 4

Weapons and Accessories:
Mace Windu:


Lightsaber
Jedi Cloak

Clone Commander:


DC-15 Blaster Rifle
DC-17 Blaster
Satchel
Removable Helmet

Clone Troopers:


Backpack Antenna
Shoulder Pauldron
DC-15 Blaster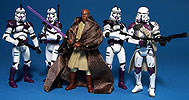 Comments: In a stunning move, the Separatist droid army has descended upon Coruscant! Mace Windu leads a battalion of fearless clone troopers to battle the droids. Mace makes short work of the super battle droids as his battalion takes care of the leftovers with their powerful blaster rifles.

Mace Windu:

Mace was once a dedeicated diplomat, but the nature of the Clone Wars has left him little choice but to become a true Jedi warrior. Clone Commander: This commander leads a team of clone troopers into battle to protect the Jedi Temple. He uses a series of hand signals to direct and position his battalion as they battle the invading droid army. Clone Troopers: These clone troopers follow their commander's orders and fight to protect the Jedi Temple.

Points of Interest:
Mace Windu is a repack of the Mace Windu III-10 figure, with a soft goods cloak.
Clone Commander is a "pre-paint" of the Airborne Trooper from the The 30th Anniversary Collection.
All 3 Clone Troopers are repaints of the Shocktrooper figure, with an added shoulder pauldron from Commander Bacara III-49.
Despite what it says on the packaging, these clones never appeared in the Clone Wars animated series on Cartoon Network.
This battle pack was originally listed as General Windu's Squadron in early lists.
The word "Battallion" is misspelled on the box.
Photography by Dan Curto

Back To Battle Packs