501st Stormtrooper
(Comic-Con Exclusive, San Diego 2006)


Source: Expanded Universe -
(501st Legion)

Exclusive:
San Diego Comic-Con 2006

Year: 2006

Assortment: Exclusive Figures

Retail: $14.99

Assortment Number: 87147

UPC Number: 6 53569 19015 1

Weapons and Accessories:
Blaster Pistol
Vader's Fist Banner
Imperial Staff
Clamshell Case
Display Stand
Comments: Vader's Fist. The very name of the Fighting 501st inspires fear across the galaxy. These elite troopers - the very best and brightest culled from the Imperial legions - serve Lord Vader in all things. They are the first on the ground in any important Imperial offensive, and the thunder of their boots is a harbinger of the doom that awaits those who would stand against the Empire.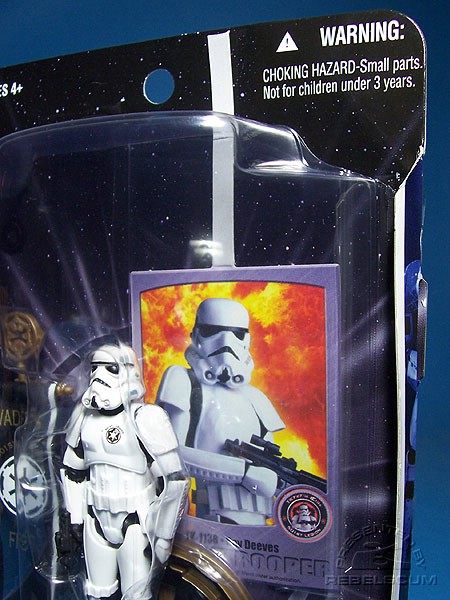 Roll over image above to see the card in action!



Points of Interest:
501st Stormtrooper is a repaint of the 2004 VOTC Stormtrooper figure.
This commemorative action figure pays homage to the elite forces serving under Darth Vader.
The packaging was created to allow members of the real-life 501st Legion to insert their own personalized trading card into the slot, effectivley making this a figure if themselves!
After SDCC, HasbroToyShop.com sold this figure, but a packaging change was made to card...the Comic-Con logo was removed.
Photography by Dan Curto & Jeremy Beckett

Back To Exclusie Figures