Ultarama Diorama Displays
(No longer made or available)
(Page no longer updated)

Diorama Background Resources

We want to not only put photos of your Ultarama creations here, but are also making available custom 8" x 10" backgrounds for visitors to download and print. Please send us photos of your dioramas as well as any backgrounds you make if you'd like to share them.


Official Ultarama Backgrounds Page
As well as other cool background resources.

Customizing Tips For Your Ultarama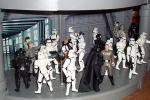 Photos Of Readers' Ultarama Dioramas

Wondering About Ultaramas?
Reviewed by Philip: I really like these. Two CU1 Series 1.1 Ultarama diorama stands arrived packed in sturdy boxes, one box for each stand, and within each two boxes, one with the components of each level. Each set came with all the pieces necessary to set up two levels, including four very nicely printed background cards.


A unique feature of the stands is the peg system. Each platform has a number of pre-formed sockets that can hold the figure pegs wherever you need them.
As assembled in the photos above, I ended up with two extra columns in each set. If you stick with just two levels, these remain unused, but if you are going up more levels, you'll need them. Because of the good instructions and nicely engineered pieces, assembly was a snap. You'll want to be careful putting the backgrounds in their slots so you don't bend the cards by accident. The stands come with 80 pre-molded peg holes, which allows you quite a bit of flexibility for positioning your figures using the supplied pegs. The best thing about the displays is the flexibility. It's up to you to decide how to use them. You could go several levels high, semi-circular, full circle, or have a bunch of one level displays. In 2001 they plan to have horizontal adapters so you can use them to separate the circular pieces. Also, you aren't limited to just action figures, it looks great displaying a die-cast car and LEGO as well. I think it's a much better way to show off your loose collections than just setting them up on the bookshelf, where they will fall down. While I wish mounting them on a wall was an option, the company says they are designed to supported on the bottom instead.
Ultarama Detail Photos