L3-37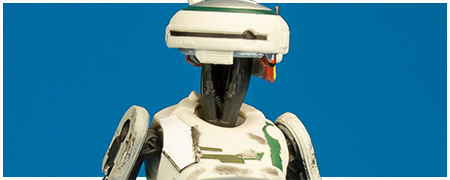 The Black Series
A "self-made droid" built from astromech and protocol parts, L3-37 is an enlightened navigator who cares deeply about droid rights.
The L3-37 action figure featured on this page was officially revealed on the Star Wars Show on May 23, 2018. She was put on public display in Hasbro's booth at the 2018 San Diego Comic-Con. This figure began hitting selves in GameStop in the U.S. in October 2018 along with 71 Val (Vandor-1) and 72 Imperial Patrol Trooper.

Product Information
Manufacturer:
Hasbro
Source:
Solo: A Star Wars Story
Year:
2018
Original Retail:
$29.99
Assortment Number:
E2613/B3834
UPC Number:
6 30509 73107 7
What's In The Box?
An action figure with the most peculiar dialect.
Text & Photography by D. Martin Myatt
Page built by Adam Lamping
comments powered by

Disqus