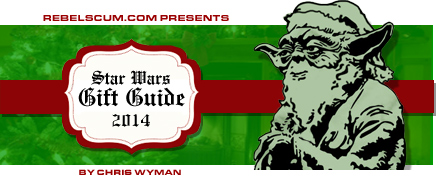 Christmas is almost here again and with Disney now producing new
Star Wars
product at an alarmingly fast rate, there's never been more of a selection to choose from.
With the 2014 Rebelscum.com Star Wars Christmas Gift Guide, the goal is to highlight some of the items out there that could potentially be good gift ideas and help you decide on the perfect present for the ones you love. There is a little something for everyone here with general retail store items from companies like Disney Store & Hasbro to higher-end companies like eFX Collectibles, Gentle Giant Ltd. & Official Pix. There are also some slightly older items listed that didn't necessarily come out in 2014, but are still fun ideas to consider.


Darth Vader Herringbone Stitch Christmas T-Shirt For Men
Available in Disney theme parks or on DisneyStore.com for $24.95
WHAT YOU GET: Nothing says December 25th like a classic Christmas sweater and this Darth Vader Herringbone Stitch Christmas shirt by Disney is the perfect gift for that person who will only wear Star Wars to special events and family gatherings. Just think of the photo opportunities!

Darth Vader Dark Side Necklace
Available from Her Universe for $85.00
WHAT YOU GET: Ashley Eckstein's newest line of Star Wars jewelry features everyone's favorite Dark Lord of the Sith, Darth Vader. Product description: Are you a Dark Side Diva? Make a statement with this stunning black hematite Darth Vader necklace adorned with Swarovski crystals. Designed at The Sparkle Factory and Made in the USA, this designer collection is the epitome of affordable luxury. Nickel Free with a 16" long chain and 4" extender. Sounds like the perfect item to drop into the stocking of the lady in your life!

Tauntaun Hooded Sweatshirt
Available from Shirts.com for $19.99
WHAT YOU GET: December usually means cooler weather for most, so this Tauntaun Hooded Sweatshirt could be the perfect gift! It's available in sizes Small up to XXL and quite discounted at the moment. It also does state that the Tauntaun guts don't smell bad like a real one would and comes complete with Luke Skywalker Lightsaber zipper.


Star Wars: A New Dawn by John Jackson Miller
Available on Amazon for $17.71
WHAT YOU GET: The first book released under direction from the new Lucasfilm Story Group making canon all material produced as if you were watching one of the films or television shows. John Jackson Miller is no stranger to the Star Wars Universe with several books and comic series under his belt. A little large for a stocking stuffer, this 383 page Del Rey hardcover takes us back six years prior to the beginning of Star Wars Rebels as we find out how Kanan and Hera meet. It's also available as an eBook or Audio Book.

Star Wars Art: Posters
Available on Amazon for $30.15
WHAT YOU GET: The fifth title in the Star Wars Art series of books does not disappoint and any Star Wars art fan will enjoy this gift. It's a detailed look at the poster art from the films and The Clone Wars in addition to some Limited Edition print artwork. For fans that want to spend the extra money, as has been the case with the previous four titles, there is a numbered Limited Edition version that retails for $400.00, comes encased in a special cover and includes five signed art prints. It's big, it's heavy...and it's awesome.

Star Wars Costumes - The Original Trilogy by Brandon Alinger
Available on Amazon for $35.01
WHAT YOU GET: Whether you are a costuming fan or not, this is an impressive book, and the detail that we see would certainly help you build a movie accurate costume. With full access to the archives, it's a never-before-seen look at actual movie outfits, sketches and behind-the-scenes stories. A 226 page Titan Books hardcover release which includes several gatefolds and all that Original Trilogy goodness that is sure to delight the Star Wars fan in your life this Christmas.

Star Wars: Dark Times - A Path To Nowhere [Gallery Edition] by Randy Stradley & Doug Wheatley
Available on Amazon for $79.04
WHAT YOU GET: We got over 20 years of incredible Star Wars comics from Dark Horse Comics and this is their final offering before the license heads back to Marvel in 2015. Instead of releasing a new single issue or series to close out this amazing run, they chose to create a Gallery Edition book just in time for Christmas showing the original pencil and script pages in their full size from the five-issue arch of Star Wars: Dark Times - A Path To Nowhere. This is an incredible piece and a must have for Star Wars comic book fans.

Star Wars: Tarkin by James Luceno
Available on Amazon for $17.81
WHAT YOU GET: This is the second book in the new Lucasfilm Story Group canon era which gives us an extremely detailed look at the origins of Wilhuff Tarkin and how he became one of the Emperor's right-hand men and eventually, a Grand Moff. James Luceno captures Tarkin's life as a small boy up into his military years in this new 288 page novel from Del Rey. This is another one you can also get as an eBook or Audio Book.

Star Wars: The Adventures of Luke Skywalker, Jedi Knight [Limited Edition] by Tony DiTerlizzi (Author) & Ralph McQuarrie (Illustrator)
Available on Amazon for $63.64 or $13.99 for regular version
WHAT YOU GET: It's the story of Star Wars retold by author Tony DiTerlizzi to the beautiful and timeless art of Ralph McQuarrie and that alone makes for a fun book. The Limited Edition version comes numbered and cloth bound in a slipcase with only 750 copies made. While this version is likely more suitable for the adult fans, there is a regular hardcover release that retails for much less which would be perfect for a younger fan who wants to delve into Luke's adventures.


Phineas & Ferb: Star Wars on DVD
Available on Amazon for $14.96
WHAT YOU GET: A comedic take on what took place during A New Hope. As the story we all know and love unfolds, the characters from Phineas & Ferb play in the world of Star Wars for the first time and the results are entertaining. Listen for the voices of Dee Bradley Baker, Jim Cummings and Simon Peg, all who have worked on Star Wars: The Clone Wars.

Star Wars Rebels: Spark of Rebellion on DVD
Available from Amazon for $12.92
WHAT YOU GET: Disney's first television effort for Star Wars comes to us by way of Star Wars Rebels, a new animated series on Disney XD. The premiere episode is available to purchase in DVD format only and is a nice introduction to all of the characters with a run time of approximately 43 minutes.

Star Wars: The Clone Wars - The Lost Missions on Blu-ray & DVD
Available on Amazon for $34.99 & $29.99
WHAT YOU GET: As expected, Lucasfilm released the final 13-episode season of Star Wars: The Clone Wars - The Lost Missions on both Blu-ray and DVD. There's a 16-minute Never-Before-Seen documentary and 4 additional unfinished story reels to make up approximately 287 minutes of run time and with all that family coming into town for Christmas, what better time to pop one of these discs in. Now...if we could just get a physical copy of the recently released Star Wars: The Clone Wars - Season 1-6 Original Soundtrack!


Jar Jar Binks with W. Wald - 2012 Holiday Deluxe Mini Bust Set
Available from Gentle Giant Ltd. for $119.99 (for Premier Guild Members only)
WHAT YOU GET: Two Christmas's ago, Gentle Giant finally gave us a Jar Jar Binks Mini Bust that included W. Wald. This was also their Premier Guild Member Christmas gift piece for 2012, so Jar Jar came complete with a Santa hat and a mess of Christmas lights that actually turn on. With an edition size of 600 pieces, believe it or not, it's still in stock and available for immediate shipment right now! Even if you only displayed him during the month of December, he still gets a thumbs up. [Note, only available for Premier Guild Members who are logged into their account.]

Ray Park - Darth Maul Autograph
Available from Official Pix starting at $44.99
WHAT YOU GET: There are some awesome new officially licensed 8x10 and 11x14 Darth Maul photos autographed by actor Ray Park up for sale at OfficialPix.com right now along with over 150 other Star Wars autographs of actors and behind the scenes crew from the Prequels, Original Trilogy, The Clone Wars and Rebels. There are new items being added and new autograph signings being announced often, so keep checking back.

Star Wars Carolers Christmas Stocking
Available from Kmart for $12.99 both online and in stores
WHAT YOU GET: Kmart really hit it out of the park this year with Star Wars Christmas merchandise and decorations. Here we have what's clearly a Star Wars Holiday Special inspired item of Luke, Leia, Han and Chewie singing carols with the tag line "May the Force be with you this Christmas" printed on the bottom of a 20-inch stocking. If you can find them, grab 'em! These seem to be disappearing from stores faster than all the others.

Star Wars Gingerbread Cookie Cutters
Available from ThinkGeek.com for $14.99
WHAT YOU GET: The folks over at ThinkGeek have come up with some pretty cool items over the last several years so it should come as no surprise that they created some brand new Star Wars Cookie Cutters perfect for making your gingerbread cookies this Christmas. The set includes Boba Fett, C-3PO, Chewbacca, Darth Vader, Stormtrooper & Yoda.

Star Wars: The Black Series Boba Fett (Prototype Armor) 6-Inch Action Figure [Walgreens Exclusive]
Available from Walgreens (in-store only) for $19.99
WHAT YOU GET: Back in July of this year, Walgreens put this new figure up for pre-order on their website and then, at the beginning of November, it was briefly seen in stores, but quickly sold out. Now, we are seeing reports of the figure being back in stores, but many store managers are keeping them in the back and only selling one per-person if someone inquires. They are out there, so if you need this one for your own collection or need to grab one as a gift, check your local Walgreens. The figure itself is an early concept version of what Boba Fett was originally designed like which makes it very vintage looking and...very cool.

Star Wars: The Black Series Jabba The Hutt 6-Inch Action Figure
Available from Amazon for $31.99 or in most retail stores.
WHAT YOU GET: After being a 2013 San Diego Comic-Con exclusive, Hasbro repacked the 6-inch tall Jabba and is offering him in a large window box without Salacious Crumb and accessories. For an extremely detailed look at this piece, check out our Photo Archive entry here.

Wedge Antilles X-Wing Pilot Helmet
Available from eFX Collectibles for $599.00
WHAT YOU GET: For those looking for a real high-end piece to give this year, look no further than eFX Collectibles' full-size Wedge Antilles X-Wing Pilot Helmet from The Empire Strikes Back. It's an exact replica of the helmet worn by actor Denis Lawson during the production of Episode V. It's limited to just 750 pieces and in stock now for immediate shipment. While definitely not a toy, you can certainly put it on and take some fun photos.

Yoda Peekbuster Star Wars Keepsake Christmas Ornament
Available from Hallmark for $19.95 both online and in stores
WHAT YOU GET: For the Yoda fan that just can't keep themselves from peeking under the tree until Christmas morning, Hallmark presents the motion-activated Yoda Peekbuster ornament that will warn against any attempt to discover what presents await. Featuring Yoda dressed in a Santa Claus suit, standing just over 3.5" tall, this is sure to create some fun for the younglings in the house.
***Please note, the pricing listed above is all subject to change and was the most up to date at the time this feature was created.***