WEDGE ANTILLES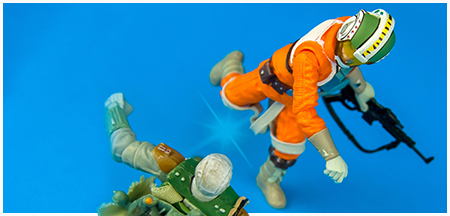 2014 The Black Series
This Rebel pilot and friend of Luke Skywalker battles Imperial forces who are attacking Echo Base on the ice planet Hoth.
The #29 Wedge Antilles was created utilizing the body originally produced for The Legacy Collection BD51 Luke Skywalker figure from 2009. It was a fitting choice since The Vintage Collection VC28 Wedge Antilles figure from 2012 was built using the body of Grizz Frix figure from the 2011 Toys "R" Us exclusive Battle Over Endor (2 of 2) multipack, which was a slight retooling of the 2006 Saga Vintage Collection Luke Skywalker: X-Wing Pilot figure, giving both of these Wedge figures similar heights.
The updated #29 Wedge Antilles action figure shipped in the fifth wave of The Black Series 3 3/4-inch collection along with the all-new #26 Darth Vader, the debut #27 Jabba's Skiff Guard, and the (finally) updated #28 Ree-Yees action figures. This assortment began hitting both virtual and physical shelves in August, 2014.

Product Information
Manufacturer:
Hasbro
Year:
2014
Original Retail:
$9.99
Assortment Number:
A5633/A5077
UPC Number:
6 53569 89695 1
What's In The Box?
Wedge Antilles Action Figure
Helmet
BlasTech DL-21 Pistol
BlasTech A280 Blaster Rifle
Text & Photography by D. Martin Myatt
Page built by Adam Lamping
comments powered by

Disqus