BATTLE ON CRAIT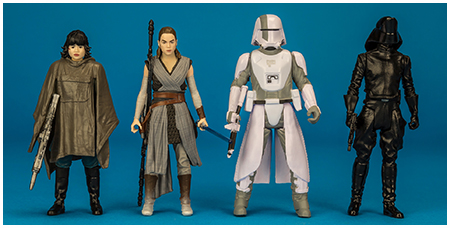 The Last Jedi Four Pack
Following 2016's Takodana Encounter and 2017's Jedha Revolt, Hasbro released the Battle On Crait 3.75-inch action figure four pack featured on this page to coincide with the Blu-Ray release of the previous year's theatrical release. This set, which began hitting shelves in North America the first week of March, 2018, features a costume debut, a character debut, and two repainted action figures. The First Order Gunner features a completely fresh sculpt, the Rose figure repurposes the legs of the previously released Rose (First Order Disguise) on an otherwise unique sculpt, the Rey is a repaint of the Rey (Jedi Training) from the first wave of single carded The Last Jedi figures, and the First Order Walker Driver is a repaint of The Force Awakens First Order Snowtrooper.
ROSE (CRAIT DEFENSE)
Part of the support crew that keeps the Resistance star fighters flying, Rose has hated the First Order since she was a child. Now able to fight back against the enemy, Rose keeps her focus on her mission.
REY (CRAIT DEFENSE)
At long last, Rey has found Luke Skywalker, the last Jedi Master in the galaxy. Hoping to find a hero of legend, she must unlearn what she has learned as Skywalker challenges her expectations.
FIRST ORDER GUNNER
The First Order Gunners crew the heavy weapons emplacements that dot the surfaces of cruisers and installations.
FIRST ORDER WALKER DRIVER
The First Order unleashes enormous armored walkers into combat, manned by a crew of specialists coordinating the movements of the complex vehicles.

Product Information
Manufacturer:
Hasbro
Year:
2018
Original Retail:
$24.99
Product Number:
E0321
UPC Number:
6 30509 62328 0
What's In The Box?
Rose (Crait Defense) Action Figure
All-Weather Poncho
BlasTech EL-16HFE Rifle
Rey (Crait Defense) Action Figure
LPA NN-14 blaster pistol
Bō Staff
Anakin Skywalker's Lightsaber
First Order Gunner Action Figure
Sonn-Blas Corporation SE 44C Blaster Pistol
First Order Walker Driver Action Figure
Sonn-Blas Corporation F-11D Blaster Rifle
Backpack
Text & Photography by D. Martin Myatt
Page Built by Adam Lamping
comments powered by

Disqus