BOBA FETT PROTOTYPE ARMOR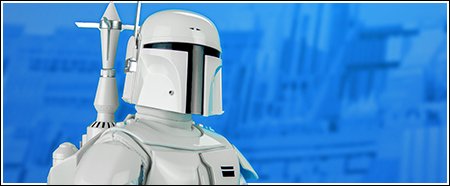 Sixth-Scale Figure
Sideshow Collectibles officially revealed their 1/6 scale Prototype Armor Boba Fett on June 27, 2013. At quick glance you might think this is a simple repaint, but with a unique helmet, left gauntlet, cod piece, belts, missile, cape(s), spats, and two blasters, this figure is very different from the previously released 2012 Boba Fett.
This figure went up for pre-order on July 1, 2013 and began shipping in March, 2014.

Product Information
Manufacturer:
Sideshow Collectibles
Collection:
Sixth Scale Figures
Source:
Preproduction of
The Empire Strikes Back
Year:
2014
Original Retail:
$179.99
Regular Edition Number:
100136
Exclusive Edition Number:
1001361
Regular Edition Size:
Limited Edition
Exclusive Edition Size:
Limited Edition
What's In The Box?
Boba Fett Figure in White Non-Removable Uniform
White & Grey Cape
Rocket Pack w/ Removable Missile
3x Left Hands
2x Right Hands
Blaster Pistol
Blaster Rifle
4x Unique Tools
Exclusive Accessories
Star Wars Beach Towel 'Cape' and Figure Base with matching design
Text & Photography by D. Martin Myatt
Page Built by Adam Lamping
comments powered by

Disqus