STAR TOURS™ SECTOR 2 SECURITY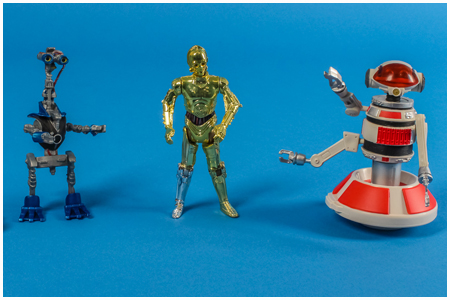 Disney Parks 2013 Action Figure Three Pack
First announced on February 19th, 2013, this set boasts three figures based on characters featured in the reimagined Star Tours 3D ride. The Sector 2 Security boxed set includes a newly sculpted G2 Droid and suitcase along with a repaint of the 2002 Star Tours RX-24 (REX) figure and a repack of the C-3PO last seen in the 2012 Movie Heroes Rebel Heroes Battle Pack. This set, along with the Search For The Rebel Spy debuted at the 2013 Star Wars Weekend event at Walt Disney World.
The Star Tours Agency provides daily departures to destinations throughout the galaxy. Climb onboard the Starspeeder 1000 and let the journey begin!

Product Information
Manufacturer:
Hasbro
Year:
2013
Original Retail:
TBA
Assortment Number:
A0417/A0415
UPC Number:
6 53569 75308 7
What's In The Box?
G2 Droid
Luggage
C-3PO
RX Droid
About This Set
In celebration of the updated Star Tours ride, Hasbro created a set based on the ride queue line experience. The G2 Droid is a brand new figure while the C-3PO was originally released in the 2006 Saga 2 Collection and the GX Droid had been previously released on a Power of the Jedi style Star Tours card as a 2002 Disney/Fan Club exclusive.
Related Figures
Photography & Text by Chris Wyman
Page Built by Adam Lamping
comments powered by

Disqus