DOCTOR APHRA COMIC SET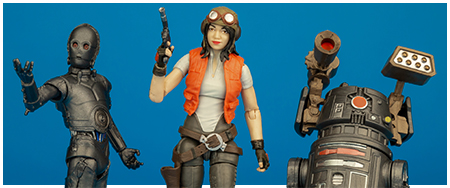 The Vintage Collection San Diego Comic-Con 2018 Exclusive
On a mission gone wrong, Doctor Aphra finds herself at the hands of the formidable Sith Lord, Darth Vader. A rare survivor of such meetings, Aphra is recruited by Vader for her skills in reprogramming droids and her apparent lack of remorse for breaking the law to get what she wants. After a brief checkered partnership with Darth Vader, Doctor Aphra escapes from the control of her dark supervisor and his clandestine agenda. Free of her obligations to Vader, Aphra ventures out with her assassin droids, 0-0-0 (Triple Zero) and BT-1 (Beetee), and Wookiee bounty hunter Black Krrsantan in search of new opportunities, legal and otherwise. Though unafraid of using whatever means necessary to get what she wants, Doctor Aphra is careful to avoid additional entanglements with Darth Vader, understanding all too well the vast reaches of his unflinching power.
Hasbro's The Vintage Collection convention exclusive for 2018 was announced on June 5th, with an exclusive reveal at io9.com, that gave a first look at the set featured on this page. First sold at San Diego Comic-Con 2018, the Dr. Aphra Special Action Figure Set was subsequently made available at select conventions and HasbroToyShop.com. Dr. Aphra was the winner of Hasbro's Star Wars Fan Figure Vote on StarWars.com and is a brand new sculpt, while BT-1 and 0-0-0 are repaints, the former utilizing the build-a-droid astromech pieces, along with a new dome and accessories while the protocol droid was originally released as See-Threepio (C-3PO) (VC06) from 2010's The Vintage Collection.

Product Information
Manufacturer:
Hasbro
Source:
Star Wars Marvel Comics
Year:
2018
Original Retail Price:
$49.99
Assortment Number:
E1628
SKU:
6 30509 66358 3
What's In The Box?
Doctor Aphra Action Figure
DL-44 Heavy Blaster Pistol
Removable Vest
BT-1 (Bee Tee) Action Figure (5 pieces)
5x removable accessories
0-0-0 (Triple Zero) Action Figure (2 pieces)
4x removable panels
Photography & Text by D. Martin Myatt
Page built by Adam Lamping
comments powered by

Disqus