ANAKIN SKYWALKER'S POD RACER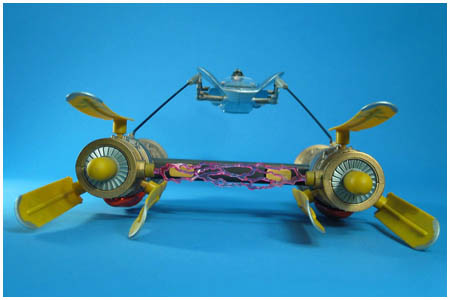 Episode I
The high speed, adrenaline-packed pod races in Mos Espa are immensely popular events for the local populace. The pilots of these pod racers must have lightning fast reflexes and nerves of plastisteel, especially for the Boonta Eve race at Mos Espa Arena. Here, Mos Espa's best maneuver through a perilous course that winds its way through narrow canyons and tunnels. Facing incredible odds and vicious competition, a victory for the young competitor Anakin Skywalker would make him Mos Espa's best pod racer.
Part of the initial release of Episode I products made available on May 3, 1999, the Anakin Skywalker's Pod Racer gave Star Wars fans an early look at one of the key events in Star Wars Episode I: The Phantom Menace. The vehicle came with an exclusive pack in Anakin Skywalker figure that was designed to fit into the Pod Racer and grasp both of the driving sticks. The toy itself featured a handle portion with two triggers that allowed the user to open the flaps and steering fins on each engine.

Product Information
Year:
1999
Original Retail:
$22.99
Assortment Number:
84020/84097
UPC Number:
0 76281 84097 0
What's In The Box
Pod
2x Connector Struts
Pod Engins (1 piece)
8x Steering Fins
Power Couplings
2x Engine Skid covers
Exclusive Anakin Skywalker Figure
Instruction Sheet
Sticker Sheet
Episode I Hasbro Toy & Game Guide
About This Vehicle
When released in 1999, this was the first vehicle produced in the 3 3/4" line based on Anakin's Podracer, and there were no rereleases of it until the 2012 Movie Heroes Anakin Skywalker's Podracer vehicle, which was retooled to feature more details.
The Podracer Anakin figure included in this set never saw a rerelease.
Text & Photography by D. Martin Myatt