EWOK PACK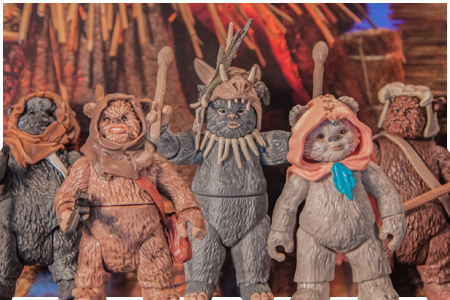 Movie Heroes
Sold in North America exclusively through Toys "R" Us, the Ewok Pack multi pack featured five Ewok figures (four of which have never been produced previously) and more than enough accessories to create a village! The set included a definitive version of Teebo, which has had two figures previously released in the 1984
Kenner Return Of The Jedi
collection and again in the 2002
Power Of The Jedi
collection, along with brand new figures based on Tippet, Flitchee, Nanta and, from the 1985 Ewoks cartoon, Kneesaa.

Product Information
Manufacturer:
Hasbro
Collection:
Movie Heroes
Source:
Return Of The Jedi
Year:
2012
Original Retail:
Item Number:
A0791/A0790
What's In The Box?
Kneesaa Action Figure
Flitchee Action Figure
Nanta Action Figure
Tippet Action Figure
Teebo Action Figure
9x Unique Ewok Cowls
4x Unique Bandoliers
1x Decorative Necklace
3x Unique Knives
1x BlasTech E-11 Blaster
1x Mace
2x Unique Spears
2x Drum Sticks
About This Set
With the release of this set Hasbro was able to completely recreate the classic Kenner Ewok assortment with consistently sculpted modern era figures. Even though Teebo, along with Wicket and Logray, had figures released between 1998-2002, this set evolved off of the 2006 Saga Collection Chief Chirpa action figure.
Based on a character from the 1985 Ewoks cartoon and comic book series, the Kneesaa figure was originally intended to be in a two pack with the Wicket action figure released in the 2011 Vintage Collection.
Nanta was originally called Corpsey, representing the only Ewok we had to watch die in Episode VI.
Text & Photography by D. Martin Myatt
Page Built by Adam Lamping
comments powered by

Disqus