SALACIOUS CRUMB
(Collector's Club Exclusive)


Source:
Return of the Jedi

Year: 2005

Assortment: Mini-Busts

Retail: $50.00

Item Number: 8275

UPC Number: 8 71810 00070 8

Limited Edition: 1008 of 2500


Comments: One of the most annoying critters in the galaxy, Salacious B. Crumb was the favored jester in the court of Jabba the Hutt. The creature had a knack for mimicry, and would pester many by constantly repeating what was said to him. Crumb had an affinity for tormenting Jabba's other employees. When C-3PO became Jabba's property, Salacious antagonized the golden protocol droid mercilessly. Crumb physically attacked Threepio, ripping the droid's eye from its socket. Fortunately, R2-D2 arrived and used his electric prod to shock the little beast.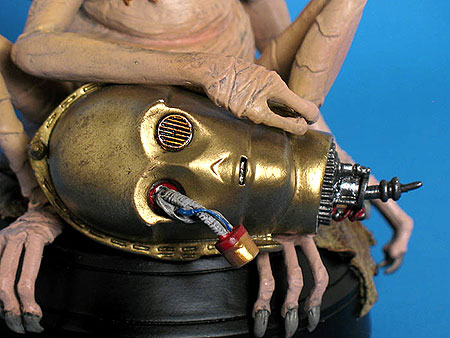 Roll over the image above to see C-3PO's eyes light up!
Points of Interest:
Photography by Mark Hurray

Back To Mini-Busts