JAREK YEAGER & BUCKET (R1-J5)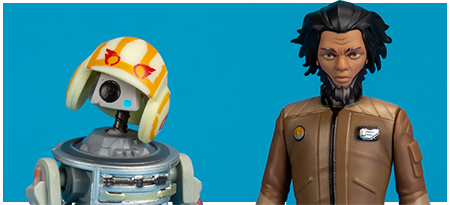 Star Wars Resistance Action Figure 2-Pack
Jarek Yeager runs a repair shop on the Colossus refueling station, enjoying the solitude of being so far off the beaten paths of the galaxy. Bucket has been Jarek Yeager's loyal astromech for years, and despite being a battered, decrepit droid addled by outdated, glitching programming, is also a skilled mechanic.
The first wave of carded action figures two packs in Hasbro's Resistance branded Star Wars Universe 3.75-inch collection was revealed at a special event held in New York City on October 4, 2018. The assortment included the Jarek Yeager & Bucket pictured on this page along with the Poe Dameron & BB-8 two-pack began hitting shelves in North America in the first month of 2019.
This set was originally packaged on cards stating Bucket's astromech designation as R3-B7 . Later releases correctly call the droid R1-J5.
For those that have been collecting since the beginning, the blaster included with this figure is molded in glorious Kenner Blue, making an already cool set far, far more incredible!

Product Information
Manufacturer:
Hasbro
Source:
Resistance
Year:
2018
Original Retail Price:
$12.99 CND
Assortment Number:
E5361/E5034
SKU:
6 30509 77224 7
What's In The Box?
Jarek Yeager Action Figure
Switch Out Jarek Yeager Head
Switch Out Helmeted Head
Bucket (R1-J5) Action Figure
Glie-44 Blaster Pistol
Photography & Text by D. Martin Myatt
Page built by Adam Lamping
comments powered by

Disqus