SENATE YODA AND DARTH SIDIOUS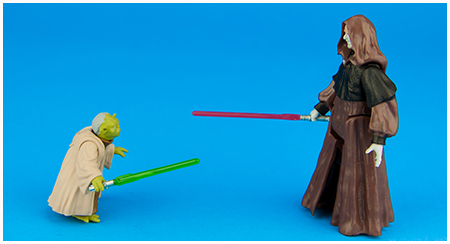 2014 Mission Series
Jedi Master Yoda discovers that Senator Palpatine is really the Sith Lord Darth Sidious, leading to an explosive duel in the Senate Chamber on Coruscant. Their intense battle tears apart the chamber in the final hours of the once-great Republic.
The third wave of figures in Hasbro's Mission Series collection was revealed (partially) on January, 2014. The assortment, which began hitting shelves in North America the following July, included the MS08: Utapau set with Obi-Wan Kenobi and General Grievous, the MS09: Bespin set with Luke Skywalker and Darth Vader, and the MS10: Senate Duel set with Darth Sidious and Yoda pictured here.

Product Information
Manufacturer:
Hasbro
Year:
2014
Original Retail:
$9.99
Assortment Number:
A6523/A5228
UPC Number (US):
6 53569 92883 6
UPC Number (NA):
6 53569 95785 0
What's In The Box?
Yoda Action Figure
Yoda Lightsaber
Darth Sidious Action Figure
Sidious Lightsaber
About This Set:
The Darth Sidious in this two pack is a new sculpt debut.
The Yoda was previously released in the single carded 2013 Saga Legends collection as SL07 Yoda. While this figure is considered a repack, the green pastic used is a bit darker, and the dark brown plastic has more of a sheen when compared to the original release. This version can be identified by the later date stamp found on the inside if the figure's robe.
Previous Versions:
Text & Photography by D. Martin Myatt
Page Built by Adam Lamping
comments powered by

Disqus