MACE WINDU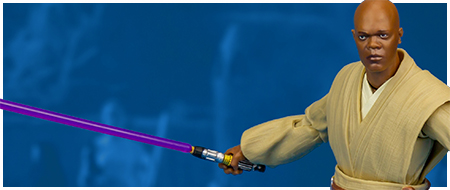 The Black Series
A grim Jedi Master with an amethyst-bladed lightsaber, Mace Windu was the champion of the Jedi Order, with little tolerance for the failings of the Senate, the arguments of politicians, or the opinions of rebellious Jedi.
The Mace Windu action figure featured on this page was released as part of the twentieth wave of The Black Series 2019 assortment. Mace is a sculpt debut, and was officially revealed at the 2018 MCM Paris Comic-Con. The figure includes the Jedi Master's iconic purple bladed lightsaber and removable soft goods Jedi robe. It began shipping in February 2019 along with the Battle Droid, Vice Admiral Holdo, Dryden Vos, Padmé Amidala, and Han Solo (Mimban) action figures.

Product Information
Manufacturer:
Hasbro
Source:
Attack of the Clones
Year:
2019
Original Retail:
$19.99
Product Number:
E4088/B3834
UPC Number:
6 30509 77985 7
What's In The Box?
Mace Windu Action Figure
This Jedi's Robe
Mace Windu's Lightsaber Hilt
Purple Ignited Lightsaber Blade
Photography by D. Martin Myatt
Text by B. Acree
Page built by Adam Lamping
comments powered by

Disqus