MISSION ON VANDOR-1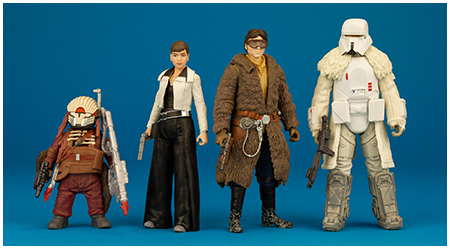 3.75-Inch Action Figure Four Pack
HAN SOLO (VANDOR-1)
Never one to plan ahead, Han Solo goes where opportunity calls - and a chance for a big score finds him riding across the wilderness of Vandor-1.
QI'RA (VANDOR-1)
Qi'Ra has put her life as a powerless street urchin behind her, and has managed to move up in status and reputation within a prominent criminal organization.
WEAZEL
Enfys Nest's cloud-riding gang of swoop raiders has attracted warriors from scattered worlds and backgrounds, like Weazel, a onetime gambler who now fights for a cause.
RANGE TROOPER
Range Stormtroopers form an Imperial backbone of stubborn defence against would-be thieves and pirates.

Product Information
Manufacturer:
Hasbro
Year:
2018
Original Retail:
$39.99
Product Number:
E1093
UPC Number:
6 30509 66642 3
What's In The Box?
Han Solo Action Figure
BlasTech DL-44 Heavy Blaster Pistol
Qi'Ra Action Figure
Monlitzer S-195 blaster pistol
Weazel Action Figure
Merr-Sonn Munitions K21c portable ordnance launcher
Blaster Pistol
Range Trooper Action Figure
BlasTech E-10R blaster rifle
Text & Photography by D. Martin Myatt
Page Built by Adam Lamping
comments powered by

Disqus