Elecronic
ASK YODA


Source:
(The Empire Strikes Back)



Year: 2004

Collection: Rebel Alliance

Retail: $19.99

Assortment: Tiger Electronic

Assortment Number: 72410

UPC Number: 5356900077

Packaging Variations:

None


Weapons and Accessories:

24 Phrases!
Comments: In the days of the Old Republic, Jedi Master Yoda was the most wise and powerful of all Jedi. Diminutive and unassuming, Yoda had no equals in his keen insight into the Force, or in his agile skill with a lightsaber. For over 800 years, Yoda instructed young Jedi and instilled in them a profound sense of discipline, strength, and unity. During the dark times following the rise of the Sith, Yoda became the last of the Jedi and the only hope in instructing Luke Skywalker in the ways of the Force. Through patience and a deep knowledge of the Force, Yoda helped Luke to fulfill his destiny - a destiny that would finally restore peace to the galaxy and honor the legend of the Jedi.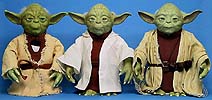 Point of Interest: This the second version of "Ask Yoda," although the thrid time a similar toy hase been released. The original version was part of the Episode I line and was called Interactive Yoda. The second version was called Ask Yoda was part of the Saga line in 2002.

Back To Miscellaneous