DEWBACK and SANDTROOPER


Source:
(A New Hope: Special Edition)



Year: 1997

Retail: $14.99

Assortment: Creature Sets

Assortment Number: 69645/69743

UPC Number: 7628169743

Packaging Variations:

None


Weapons and Accessories:

Rifle
Electropole
Backpack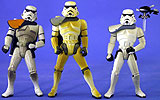 Points of Interest:
Moving the Dewback's tail back and forth caused the mouth to open and close.
The backpack includes a small hole on the side so the rifle can be connected to it for storage while riding the Dewback.
The grey pauldron signifies this trooper's rank as part of the mounted patrol in the Imperial army.
Other Sandtrooper figures were released as a carded figure and with the Cantina 3-D Display Diorama.
The "dirty" paint on the armor was originally overdprayed so that it ended up looking more orange than dirty. This was soon changed to a "cleaner" look with less dirt.

Back To Creature Sets