TATOOINE STORMTROOPER /
SANDTROOPER


Source: (A New Hope)



Year: 1996

Collection: 1 and 3

Retail: $4.99

Assortment: Basic Figures

Assortment Number: 69570/69601

UPC Number: 7628169601

Packaging Variations:

.00 Red Collection 1
.01 Green Collection 1
.02 Green Collection 1 (holo)
.02 Green Collection 3
.02 Green Collection 3 (holo)
.03 Freeze Frame Collection 3


Weapons and Accessories:

Concussion Grenade Cannon
Heavy Blaster Rifle
Backpack
Orange Pauldron
Height: 1.83 meters
Status: Imperial Shock Troops
Classification: Human
Affiliation: Galactic Empire
Weapon of Choice: Imperial Issue Blaster, Heavy Blaster Rifle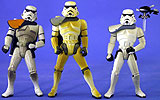 Points of Interest:
This figure was originally released on the red cards as "Tatooine Stormtrooper with Concussion Grenade Cannon" and was later changed on the green cards to "Sandtrooper with Heavy Blaster Rifle" and then finally "Sandtrooper with Concussion Grenade Cannon" in the Freeze Frame collection.
The orange pauldron signifies this trooper's rank as an officer in the Imperial army.
Other Sandtrooper figures were released with the Dewback with Sandtrooper beast pack and the Cantina 3-D Display Diorama.
The Freeze Frame variation is one of the hardest-to-find figures in that assortment.









Click here for details on the European card variations.

Back To Basic Figures