BOBA FETT


Source:
(Return Of The Jedi)



Year: 1995

Collection: 1 and 3

Retail: $4.99

Assortment: Basic Figures

Assortment Number: 69570/69582

UPC Number: 7628169582

Packaging Variations:

.00 Red (Half Circle)
.00 Red (Full Circle)
.01 Red (No Circle)
.02 Green Collection 1 (holo)
.03 Green Collection 3 (holo)
.04 Freeze Frame Collection 3


Weapons and Accessories:

Sawed-off Blaster Rifle
Jet Pack
Harness and Cape
Freeze Frame (.04 only)
Height: 1.8 meters
Status: Bounty Hunter
Classification: Human
Affiliation: Freelance
Weapon of Choice: Mandalorian Battle Armor and Various Blasters


Comments: The most notorious and fearsome bounty hunter in the galaxy is also the most mysterious. Many legends and stories have arisen over the years, but few facts are known of the man called Boba Fett, or his link to Han Solo's past. Since the Clone Wars, Fett has worked as a mercenary, a soldier, a personal guard, an assassin, and most frequently, as the most expensive bounty hunter in the known systems.

Point of Interest: Alternate figures of Boba Fett were also released as a Deluxe figure and as part of a Shadows of the Empire 2-pack.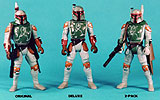 Click here for details on the European card variations.

Back To Basic Figures