BOBA FETT
with Wing-Blast Rocketpack and Overhead Cannon


Source: (Expanded Universe)



Year: 1996

Retail: $7.99

Assortment: Deluxe Figures

Assortment Number: 69610/69638

UPC Number: 69610/69638

Packaging Variations:

.00 (Photon torpedo)
.01 (Proton torpedo)


Weapons and Accessories:

Wing-Blast Rocketpack
Overhead Cannon
Comments: This figure never appeared in any film, neither was the vehicle. This was created as one of the first "Expanded Universe" toys in the line.

Point of Interest: Alternate figures of Boba Fett were also released as a carded figure and as part of a Shadows of the Empire 2-pack.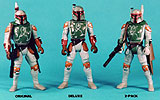 Back To Deluxe Figures