LUKE SKYWALKER in Stormtrooper Disguise


Source: (A New Hope)



Year: 1996

Collection: 2 and 1

Retail: $4.99

Assortment: Basic Figures

Assortment Number: 69605/69604

UPC Number: 7628169604

Packaging Variations:

.00 Red Collection 2
.00 Red Collection 2 (holo)
.01 Green Collection 2
.01 Green Collection 2 (holo)
.02 Green Collection 1 (holo)
.03 Freeze Frame Collection 1 (Sealt Marie)
.04 Freeze Frame Collection 1 (Saelt Marae)


Weapons and Accessories:

Imperial Issue Blaster
Stormtrooper Helmet
Freeze Frame (.03 and .04)
Height: 1.72 Meters
Status: Jedi In Training, Rebel Pilot
Classification: Human
Affiliation: Rebel Alliance
Weapon of Choice: Lightsaber, Blaster


Comments: Disguised as stormtroopers and fighting off a regiment of Imperial troops inside the Death Star, the escaping band of heroes finds refuge in a garbage receptacle. The Rebels realize their problem has changed when teh walls begin closing in.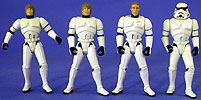 Points of Interest:
A vastly different posed Luke Skywalker in Stormtrooper Disguise figure was included in the Death Star Escape cinema scene.
The body of this figure was used for the Luke Skywalker figure that was included in the Escape the Death Star action figure board game.















Click here for details on the European card variations.

Back To Basic Figures