ESCAPE THE DEATH STAR
Action Figure Game


Source: (A New Hope)



Year: 1998

Retail: $24.99

Assortment: Action Figure Board Games

Assortment Number: 40905

UPC Number: 7300040905

Packaging Variations:

None


Weapons and Accessories:

Luke Skywalker figure
Darth Vader figure
Imperial Blaster
Blaster Pistol
Blaster Rifle
Luke's ROTJ lightsaber
Darth Vader's lightsaber
Unique blue lightsaber
LUKE SKYWALKER in Trash Compactor:
Height: 1.72 Meters
Status: Jedi In Training, Rebel Pilot
Classification: Human
Affiliation: Rebel Alliance
Weapon of Choice: Lightsaber, Blaster

Darth Vader with Removable Dome:
Height: 2.02 Meters
Status: Commander of the Imperial Fleet, Dark Lord of the Sith
Classification: Human
Affiliation: Galactic Empire
Weapon of Choice: Lightsaber

Comments: Board the Death Star...for a fight to the finish!
Recreate classic Star Wars movie battles in two games! In the first, for younger players, Luke Skywalker, Han SOlo, Princess Leia and Chewbacca sneak through the Death Star capturing Imperials. Can you score the most captures?
Now advance to the next game -- and take sides. Darth Vader, Boba Fett and stormtroopers move in the open, capturing Rebel Code Cards to win. But the Rebels move in secret. To win, they must use strategy to reach the Millennium Falcon, then dice-roll their way off the Death Star!
Add other sction figures you already own...and fill the game board with life-like Star Wars characters!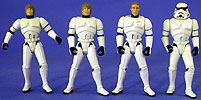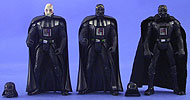 Points of Interest:
The Luke Skywalker in Trash Compactor figure uses the same body as the Luke Skywalker (Stormtrooper Disguise) carded figure, and a different sculpted figure was included in the Death Star Escape cinema scene.
The Darth Vader with Removable Dome figure uses the same body as the Darth Vader with Removable Helmet carded figure and the head from the figure in the Death Star Complete Galaxy set.
The blue lightsaber included in this game uses the same mold as Darth Vader's weapon, cast in blue with a black handle.
Boba Fett was never on the Death Star.

Back To Miscellaneous