DARTH VADER with Removable Helmet


Source: (Return of the Jedi)



Year: 1998

Collection: 3

Retail: $5.99

Assortment: Freeze Frame Figures

Assortment Number: 69705/69836

UPC Number: 7628169836

Packaging Variations:

None


Weapons and Accessories:

Removable Helmet
Detachable Hand
Lightsaber
Plastic Cape
Freeze Frame
Comments: Luke Skywalker removes his father's head gear so that Anakin may look at at his son with his own eyes for the first time. Darth Vader became one with the light side of the Force when he rescued his son from the clutches of the Emperor.

Point of Interest: The body of this figure was also used for the Darth Vader figure in the Escape the Death Star board game.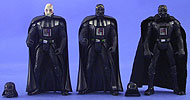 Back To Basic Figures