POE DAMERON & BB-8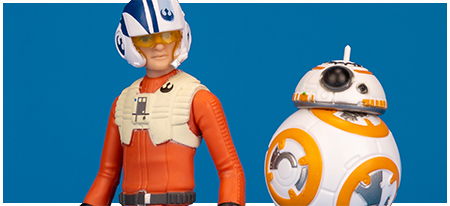 Star Wars Resistance Action Figure 2-Pack
A hotshot X-wing pilot for the Resistance, Poe Dameron is a natural leader who keeps an eye on the crew of the Colossus. When Poe sets out on his own missions, he leaves behind BB-8, a rolling BB unit whose spherical shell is packed with useful tools and computer interface equipment, to work alongside Kaz and the rest of the crew.
The first wave of carded action figures two packs in Hasbro's Resistance branded Star Wars Universe 3.75-inch collection was revealed at a special event held in New York City on October 4, 2018. The assortment included the Poe Dameron & BB-8 pictured on this page along with the Jarek Yeager & Bucket two-pack began hitting shelves in North America in the first month of 2019. Like the Jarek Yeager & Bucket two-pack, this one also saw its packaging corrected early on in its production to correct the droid's designation number.

Product Information
Manufacturer:
Hasbro
Source:
Resistance
Year:
2018
Original Retail Price:
$14.99
Assortment Number:
E5360/E5034
SKU:
6 30509 77223 0
What's In The Box?
Poe Dameron Action Figure
BB-8 Action Figure
Removable Helmet
Glie-44 Blaster Pistol
Photography & Text by D. Martin Myatt
Page built by Adam Lamping
comments powered by

Disqus