MUSTAFAR FINAL DUEL PLAYSET
(Includes Obi-Wan Kenobi and Darth Vader!)


Source:
(Revenge of the Sith)

Year: 2005

Assortment: Playsets

Retail: $29.99

Weapons and Accessories:
Obi-Wan KEnobi figure
Darth Vader figure
Blasting Magma!
Breakaway Platforms!
Lava Flips Over!
2 Ropes
2 Battle Discs
Comments: Darth Vader takes on Obi-Wan Kenobi in a final duel on a planet of erupting volcanos! Vader, who was once the Jedi Knight Anakin Skywalker, has turned to the dark side and now fights on the side of evil against his former Master. Vader and Obi-Wan meet in a climactic confrontation and fight to the finish while dodging blasts from a volcano and overcoming dangerous obstacles! Re-create this ultimate battle that decides the fate of the galaxy for the next generation!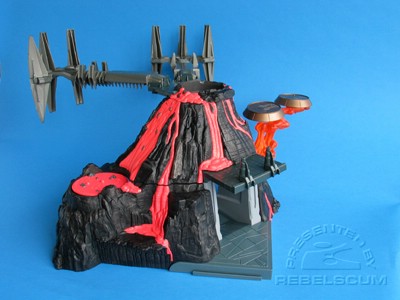 Roll over image above to see it from all angles!
Points of Interest:
The Mustafar Final Duel Playset brings the dramatic action of Episode III to life with multiple play features and Obi-Wan Kenobi and Darth Vader action figures. Battle discs allow you to recreate the Jedi dueling action or launch figures at each other for incredible mid-air battle. Breakaway platforms, a pool of "lava", and a blasting volcano add to the thrill of this climactic confrontation.
Breakaway platforms add to the excitement!
Attach other battle arenas (not included) to expand the battle!
Photography by: Dave Myatt. Special Effects by: Dan Curto


Back To Playsets