HASBRO PRESS KIT
(Toy Fair 2005 Exclusive)


Source:
(Revenge of the Sith)

Collection: Toy Fair Exclusive

Year: 2005

Number: None

Assortment: Exclusive Figures

Retail: N/A

Assortment Number: None

UPC Number: None2

Weapons and Accessories:

Anakin Skywalker
Darth Vader
Flipping Insert
Opening Left Flap
Promotional Materials
Comments: A young Jedi named Anakin Skywalker was seduced by the dark side of the Force...and became the most evil villain of all time, the scourge of the galaxy...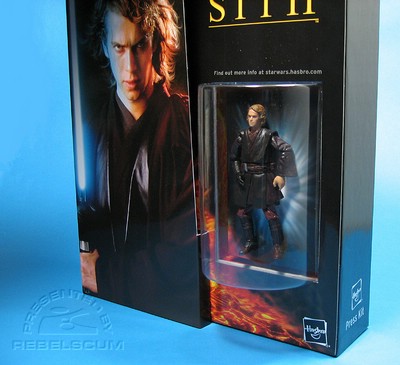 Roll over image above to see it in action!
Points of Interest:
Photography by: Dave Myatt. Special Effects by: Dan Curto
Free gift to media representatives attending Hasbro's Toy Fair presentation. Limited to one kit per media outlet.
Kit includes Anakin Skywalker and Darth Vader figures. By opening and closing the left flap, the insert flips back and forth between the two figures.

Back To Miscellaneous