REBEL SET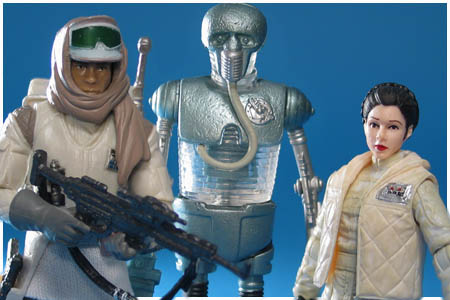 Special Action Figure Set
Following sufficient interest in the first three Target Exclusive Star Wars Vintage Collection Special Action Figure Set of three packs that came together as a complete set of nine figures, Hasbro revealed during their presentation at the New York Toy Fair in 2011 that a second wave would be released, though this time as three individual three packs. Picking up where the first sets left off in reliving the nostalgia of the classic Kenner three packs, each pack featured the same combination of figures found in the corresponding vintage set, with Villain and Hero sets in Star Wars packaging and a Rebel set from The Empire Strikes Back. These sets began appearing in stores around May 2011, priced $19.99 each.
Leia (Hoth Outfit)








Rebel Commander








2-1B








Accessories & Additional Images







Target (US) Product Packaging






Product Information
Manufacturer:
Hasbro
Year:
2011
Original Retail:
$19.99
Assortment Number:
33196/32976
UPC Number:
6 53569 61315 2
What's In The Box?
2-1B Figure
Leia (Hoth Outfit) Figure
Rebel Commander Figure
2-1B's Probe Thingy
Leia's Blaster
Rebel Commander's Blaster
Rebel Commander's Rifle
Rebel Commander's Head Gear
Rebel Commander's Backpack
About These Figures
The 2-1B figure is a repaint of the 1997 Power Of The Force 2-1B Medical Droid figure.
The Leia (Hoth Outfit) figure is a repack of the 2010 Vintage Collection Leia (Hoth Outfit) figure.
The Rebel Commander figure is a repack of the 2010 Target Exclusive Defense Of Hoth (clean shaven) Rebel Trooper figure.
Text by Adam Lamping & D. Martin Myatt
Photography by D. Martin Myatt