PRINCESS LEIA ORGANA
(Exclusive Edition)


Source: (A New Hope)

Year: 2006

Assortment: 1/4 Scale Figures

Retail: $274.00

Series: Premium Format

Item Number: 71191

Limited Edition Number: 1000

Weapons and Accessories:
Base
Blaster
SIDESHOW EXCLUSIVE - Stormtrooper Blaster
Comments: The beautiful Princess Leia Organa is a symbol of diplomacy, strength, and hope within the Rebel Alliance. While serving as the youngest member of the Imperial Senate, Princess Leia secretly leads the struggling Rebellion in their mission to overthrow the Galactic Empire. After being captured and forced to witness the destruction of her homeworld, Leia continues to place her dedication to the Alliance above her own personal needs and safety. She makes a new family within the Rebellion and with her rescuers, Luke Skywalker and Han Solo. Soon, the Princess develops feelings for Han and begins to display a tender warmth previously hidden beneath her brave exterior. During the Battle of Endor, the Princess discovers Luke to be her twin brother, separated at birth to protect them from their father, the villainous Darth Vader. Jedi Knight Obi-Wan Kenobi had placed them in hiding because he knew that if Vader's offspring were allowed to realize their latent Force abilities, they would be the only hope in returning peace and order to the galaxy. Through this realized potential and strong resolve, Leia helps the Rebellion succeed in bringing the Empire's tyranny to an end.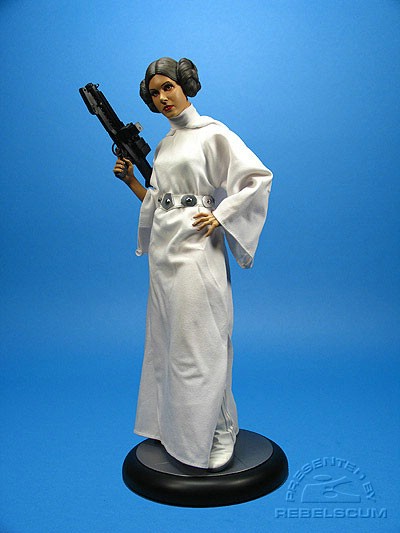 Roll over image above to take Leia for a spin!!
Points of Interest:
The Premium Format 1:4 Scale Princess Leia figure captures all of the subtle attitude that Carrie Fisher invested in the role, with hips cocked and gun at the ready. The figure is constructed of hand-cast polystone, each hand-painted to exacting standards, and meticulously finished with details such as eyelashes. Leia is dressed in the complete hooded white robe costume, accurately reproduced in 1:4 scale, including her detailed belt.
Photography by D. Martin Myatt

Back To Sideshow Collectibles