OBI-WAN KENOBI


Source: (A New Hope)

Year: 2006

Number: 7141

Assortment:
1:4 Scale Figures

Retail: $275

Dimensions:
20" H x 12" W x 18" D

Limited Edition No.:
68 of 2,250

Weapons and Accessories:
Lightsaber
Belt
Cloak
Base
Power Pack and Batteries
SIDESHOW EXCLUSIVE - Jedi Training Remote
Comments: Obi-Wan Kenobi was once a noble Jedi Knight in the days of the Old Republic, before the Jedi Order was extinguished and before the tyrannical Empire ruled the galaxy. After the fall of the Jedi, Obi-Wan retreated to the isolated Jundland Wastes on the desert planet Tatooine. Many locals dismissed the old hermit as a crazy wizard and never suspected that he was a once-great warrior and former general of the Republic. In actuality, Kenobi was silently observing from afar the young farmboy Luke Skywalker, whose future was unknowingly linked to the survival of the Jedi and the Rebellion. When Obi-Wan saves Luke from a band of Tusken Raiders, he begins to mentor young Skywalker in the ways of the Force, and together with starship Captain Han Solo, his copilot Chewbacca, and the two droids R2-D2 and C-3PO, they set out to rescue the Rebel leader Princess Leia from the Empire's dreaded Death Star. While aboard the Imperial stronghold, Obi-Wan faces his old apprentice Darth Vader, now a Dark Lord of the Sith. A noble example of conviction and self-sacrifice, Obi-Wan allows himself to fall at the hands of Vader so that Luke can escape to the Rebellion and ensure the viability of its future.

Points of Interest:

The Premium Format ¼ Scale Obi-Wan Kenobi figure captures old Ben as he faces Vader in the long Death Star corridor. The figure is constructed of hand-cast polystone, hand painted to exacting standards, and dressed in the full costume accurately reproduced in ¼ scale. The lightsaber features an electronic light-up function, powered by your choice of batteries or via an included power cord. The underside of the base is printed with the artist's signature and the edition information.
Photography by Dave Myatt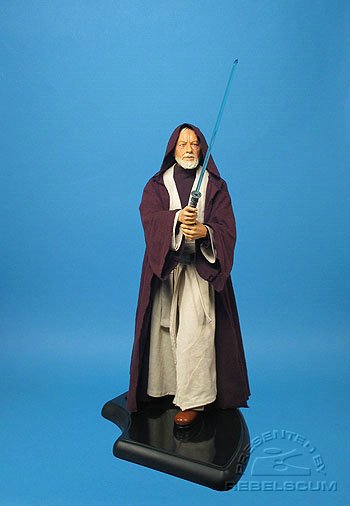 Roll over image above to take Obi-Wan for a spin!!

Back To Sideshow Collectibles