STAR WARS
Early Bird Certificate Package


Source: (Star Wars)

Year: 2005
(Wal-Mart Exclusive)

Assortment: Exclusive Figures

Retail: $29.97

Assortment Number: 85749

UPC Number: 6 53569 08574 4

Accessories:
Early Bird Certificate
Display Stand
Club Membership Card
Stickers
Hyperspace Trial Membership Card
Pre-Addressed Envelope
Comments: Start your own collection with an Early Bird set!
With this Special Certificate package, you can be sure of owning updated versions of the first authentic set of four Star Wars action figures.Inside, there's an Early Bird Certificate that you mail in to get onw of these sets. Your set will be mailed to you, postage paid, when it's ready... between May 1, 2005 and December 31, 2005.

Points of Interest:
Back in 1977, Kenner celebrated the launch of the original Star Wars movie with a truly unique item: the "Empty Box" promotion. With the runaway success of Star Wars and no time to produce their now-famous figures in time for the holidays, Kenner offered Star Wars fans an alternative: an "Empty Box" that included no figures, but instead contained a mail-in certificate that fans could redeem for four 3.75" Star Wars action figures by mail-- the very first Star Wars figures ever made.
Now, to celebrate the May 19th launch of the last Star Wars movie, Episode III Revenge of the Sith, Hasbro has created a near-exact replica of that 1977 "Empty Box" with a certificate that offers updated versions of the first four original Star Wars action figures from 1977: Luke Skywalker, Princess Leia, R2-D2, and Chewbacca. Get yours while supplies last – only 50,000 will ever be available, far fewer than in 1977!
The Early Bird Set includes four sturdy 3¾ inch scale, plastic poseable figures (see photo below):

Luke Skywalker - with a lightsaber which slides out of its hand-held case ready for action
Princess Leia - with her special star puffs hairdo, and laser pistol like the one she used in the movie.
R2-D2 (Artoo-Detoo) - with movable legs and a head that "clicks" as it turns around.
Chewbacca - with his special laser rifle and ammunition belt across his chest.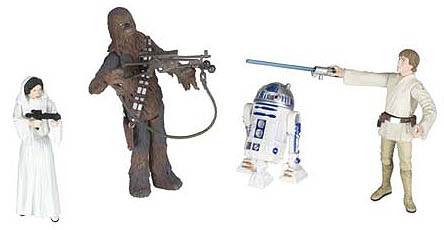 Mail in the Early Bird Certificate, receipt, and UPC code to receive the Early Bird Set.

Back To Exclusive Figures