STAR WARS
Early Bird Kit


Source: (A New Hope)

Year: 2005

Assortment: Exclusive Figures

Retail: Free Mail-In Offer

Assortment Number: 85868

UPC Number: N/A

Weapons and Accessories:
Lightsaber Blade
Blaster
Bowcaster
Pegs


Note: This set was available for free from a mail-in offer found in the Early Bird Certificate Package.


Comments:
Back in 1977, Kenner celebrated the launch of the original Star Wars movie with a truly unique item: the "Empty Box" promotion. With the runaway success of Star Wars and no time to produce their now-famous figures in time for the holidays, Kenner offered Star Wars fans an alternative: an "Empty Box" that included no figures, but instead contained a mail-in certificate that fans could redeem for four 3.75" Star Wars action figures by mail-- the very first Star Wars figures ever made.
Now, to celebrate the May 19th launch of the last Star Wars movie, Episode III Revenge of the Sith, Hasbro has created a near-exact replica of that 1977 "Empty Box" with a certificate that offers updated versions of the first four original Star Wars action figures from 1977: Luke Skywalker, Princess Leia, R2-D2, and Chewbacca. Get yours while supplies last – only 50,000 will ever be available, far fewer than in 1977!
The Early Bird Set includes four sturdy 3¾ inch scale, plastic poseable figures (see photo below):

Luke Skywalker - with a lightsaber which slides out of its hand-held case ready for action
Princess Leia - with her special star puffs hairdo, and laser pistol like the one she used in the movie.
R2-D2 (Artoo-Detoo) - with movable legs and a head that "clicks" as it turns around.
Chewbacca - with his special laser rifle and ammunition belt across his chest.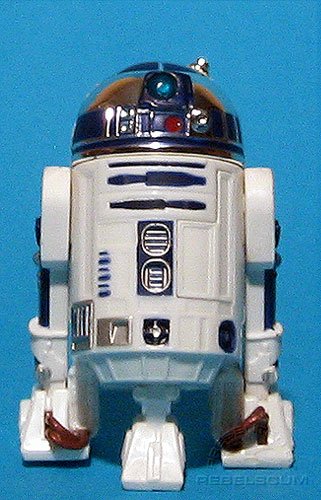 Roll over image above to see R2-D2 in action!
Points of Interest:

Luke Skywalker is an all-new figure with a telescoping lightsaber, similar to the Vintage figure.
Princess Leia is an all-new figure.
Chewbacca is a kit-bashed figure. He has the body of the VOTC Chewbacca and a new head.
R2-D2 is based on the VOTC R2-D2 without all the extra accessories.
Photography by Jeremy Beckett

Back To Exclusive Figures