DARTH VADER
(Anakin Skywalker)


Source: Revenge of the Sith

Year: 2007

Assortment: Saga Legends

Retail: $6.99

Assortment Number: 85942/85770

UPC Number: 6 53569 12331 6

Weapons and Accessories:
Lightsaber Hilt
Right Hand
Right Hand w/ Lightsaber
Cloth Cloak
Episode III Collector Coin
Species: Human, born on Tatooine
Status: Apprentice to Darth Sidious
Weapon of Choice: Lightsaber and the Force
Characteristic: Angry, vengeful, powerful
Comments: Turning his back on his former life, Anakin takes a new name along with his new identity: Darth Vader. He has fallen to the dark side of the Force and betrayed his Jedi comrades to the evil Sith. On the volcanic planet Mustafar, he meets his destiny in a fierce battle with his former Master, Obi-Wan Kenobi.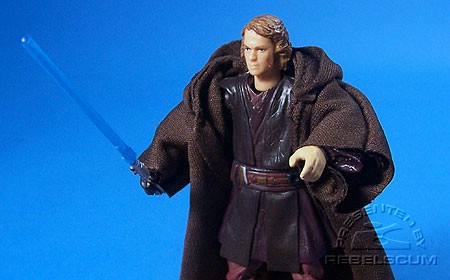 Roll over the image above and watch Darth Vader in action!
Points of Interest:
Darth Vader is a repack of 2006's TSC Anakin Skywalker SAGA-025, which was originally available as Anakin Skywalker (Lightsaber Attack!).
Photography by Dan Curto

Back To Saga Legends