CANTINA BAND MEMBER
(Star Wars Weekends 2007 Exclusive)


Source: A New Hope

Year: 2007
Walt Disney World Exclusive

Assortment: Exclusive Figures

Retail: $14.95

Assortment Number: 87537

UPC Number: 6 53569 25791 2

Note: There is an additional sticker on the bottom of the blister with a different UPC number of
4 00227 38183 6

Weapons and Accessories:
Soft Goods Cloak
Cantina Base with Light and Music
Musical Instrument (see Point of Interest below)

Comments: Figrin D'an and the Modal Nodes entertain the customers in the Mos Eisley cantina with lively music. They play without pause over the sounds of blaster fire, which is heard all too often in this seedy hotspot. The band includes frontman Figrin D'an on klo horn and gasgan string drum, Doikk Na'ts on the Dorenian Beshniquel, Ickabel G'ont and Tedn Dahai on fanfares, Tech Mo'r on the Omni Box, and Nalan Cheel on the bandfill. Whatever trouble erupts in the cantina, the Modal Nodes keep on spinning their tunes for the crowd.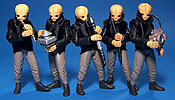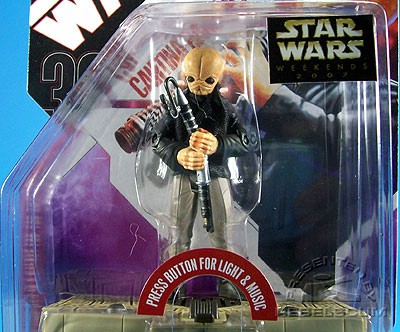 Press button for light and music!


Watch and listen to the Cantina Band theme!
Points of Interest:
Cantina Band Member is a repack of the Figrin D'an & The Modal Nodes Commemorative Tin Collection.
The base lights up with a blue light and plays a segment of the Cantina theme music. It is also designed to fit together with other bases to create a "stage."
There are 5 versions of this figure: each one comes with a different musical instrument: the Klo Horn, the Dorenian Beshniquel (AKA "Fizz"), the Fanfar, the Omni Box, or the Bandfill.
Several loose images shown above are actually figures from the aformentioned Wal-Mart set. Only one Cantina Band Member has been opened for this shoot.
All Cantina Band Members will only be sold during the Star Wars Weekends in June 2007.
Photography by Dan Curto

Back To Exclusive Figures