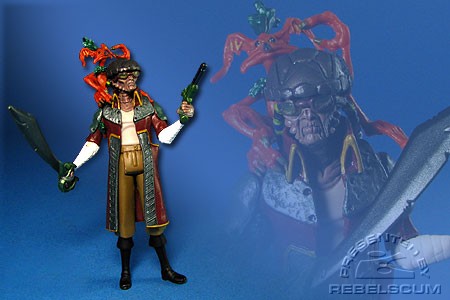 HONDO OHNAKA
Source:
The Clone Wars
Year:
2009
Number:
CW41
Assortment:
Basic Figures
Retail:
$7.99
UPC Number:
91285/87638
Weapons and Accessories:
• Sword
• Pistol
• Jacket
• Pilf Mukmuk
• Galactic Battle Game Card
• Game Die
• Display Stand
Comments:
Hondo Ohnaka is the leader of a band of Weequay pirates and is always accompanied by Pilf Mukmuk, his Kowakian monkey lizard. The pirate chief captures Count Dooku and plans to demand a large ransom for the return of the powerful Separatist leader.
Points of Interest:
Hondo Ohnaka is an all-new figure.

Pilf Mukmuk is an all-new figure.

This figure was repackaged in 2011 with new graphics and the Galactic Battle Game pieces.
Photography by Dan Curto

Back To Basic Figures