R2-D2


Source:
(The Empire Strikes Back)

Collection: Battle of Hoth

Year: 2006

Number: SAGA-010

Assortment: Basic Figures

Retail: $6.99

Assortment Number: 85930/85770

UPC Number: 6 53569 11792 6

Weapons and Accessories:
Lantern
Cargo Compartment
Rations Kit
Display Stand
Manufacturer: industrial Automaton
Serves as: X-Wing Fighter Navigator
Objective: Escape Hoth with Luke Skywalker
Comments: As the assault on the Rebel's secret base on Hoth comes to an end, R2-D2 (Artoo-Detoo) is ready to take off in Luke Skywalker's X-Wing fighter. As the two flee the ice planet, Luke informs Artoo that he is not planning tomeet at the rendezvous point with the other Rebels. Instead, Luke is planning to go to the Dagobah system, a decision that makes Artoo a bit uneasy.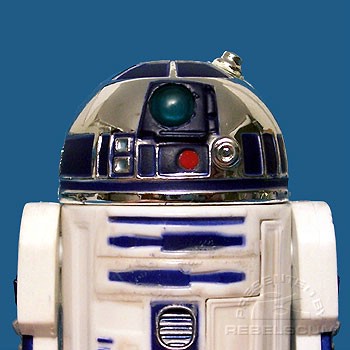 Roll over image above to see R2-D2 in action!
Points of Interest:

The figure of R2-D2 is a repaint of the VOTC R2-D2 figure, without the extra accessories, and the front panel is glued into place.
The survival gear included with this figure are all repaints of the gear included with the SAGA Luke Skywalker's X-Wing Fighter from 2002.
Photography by Dan Curto

Back To Basic Figures