R5-G19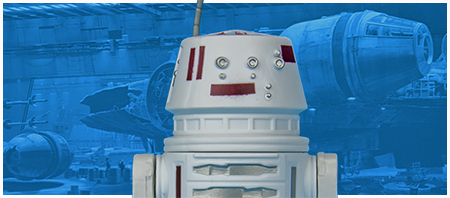 2014 The Black Series
An R5-series astromech droid stands in the briefing room as Rebel Alliance leaders Mon Mothma and Admiral Ackbar outline the planned attack on the second Death Star.
In the fourth quarter of 2014 the first wave of figures in The Black Series revamp began to hit shelves across North America. The assortment comprising of repaints, repacks, and a single kit bash figure, including the character debut #01 R5-G19 pictured here, the kit bashed #02 Luke Skywalker, the repacked #03 Darth Vader, the repainted #04 Darth Malgus, the repacked #05 Starkiller (Galen Marek), and the repacked #06 Yoda, featured a brand new card back design that did away with the minimalist style seen previously in favour of a layout that harkened back to the 2008 Legacy Collection and The Clone Wars packaging.

Product Information
Manufacturer:
Hasbro
Year:
2014
Original Retail:
$9.99
Assortment Number:
A5077/A7261
UPC Number:
6 30509 24665 6
What's In The Box?
About This Figure:
The #01 R5-G19 figure was made using Build A Droid parts making it easily customizable.
The droid on the card back isn't actually R5-G19. While this figure represents a droid seen in the briefing room, it was standing on the other side of the set behind an extra in a cape.
Text & Photography by D. Martin Myatt
Page built by Adam Lamping
comments powered by

Disqus