Padmé Amidala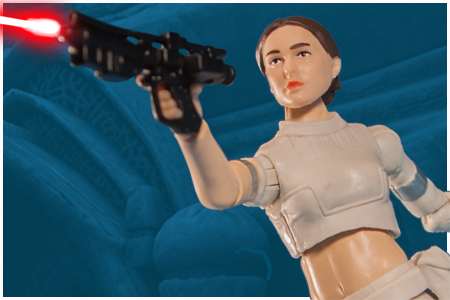 2013 The Black Series
Padmé Amidala is captured during a mission to Geonosis and must fight for her life in the execution arena.
The #01 Padmé Amidala finally offered collectors a more realistic interpretation of her battle damaged costume, which wasn't represented in this scale since the original 2002 Padmé Amidala (Arena Escape) action figure from the Saga line.
This figure, along with #02 Clone Trooper Sergeant featuring the 2011 body buck, #03 Anakin Skywalker as he appeared in Attack Of The Clones, #04 Biggs Darklighter in his X-Wing pilot gear, #05 Luke Skywalker in his Yavin Ceremony outfit, #06 Darth Vader with Bespin Cloud City related accessories, #07 Biker Scout that was originally included with the Speeder Bike the previous year and #08 Clone Pilot in Phase I armor, made up the first wave of figures in Hasbro's Star Wars: The Black Series 3 3/4-inch action figure collection. The figures were originally planned to be released in the cancelled 2013 Droid Factory collection and were revealed to be repackaged as the launch wave for this new collector focused series. First revealed in their showroom at the 2013 Toy Fair, the first wave began shipping all over North America at the end of the following July.

Product Information
Manufacturer:
Hasbro
Year:
2013
Original Retail:
$9.99
Assortment Number:
A5158/A5077
UPC Number:
6 53569 88033 2
What's In The Box?
Padmé Amidala Figure
E-5 Blaster
ELG-3A Blaster
Variations:
The initial shipment of action figures in the first wave of The Black Series had a blister separation issue. The glue wasn't strong enough to sufficiently keep the blister attached to the card back.
To correct the blister separation issue, Hasbro added a line of tape on the top of the blisters of all the remaining stock before implementing new procedures that solved the issue all together.
After fixing the separation issue, Hasbro altered the blister design by removing the impressed Imperial Light Piping on the right side.
Previous Versions:
Text & Photography by D. Martin Myatt
Page built by Adam Lamping
comments powered by

Disqus