DARTH VADER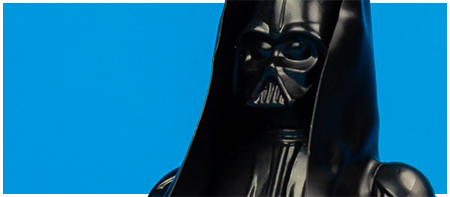 The Retro Collection Action Figure
The first seven action figures released in The Retro Collection were revealed in Hasbro's showroom at the 2019 Toy Fair. The Darth Vader action figure featured on this page was released the following May along with Han Solo, Princess Leia Organa, Chewbacca, Luke Skywalker, and Stormtrooper. At the same time, Hasbro released the very first classic Kenner style Grand Moff Tarkin carded action figure with a remake of the classic Kenner Escape From Death Star board game. All seven figures were released exclusively at Target stores on May 12, 2019, and saw wider distribution later in the year.

Product Information
Manufacturer:
Hasbro
Source:
A New Hope
Year:
2019
Original Retail Price:
$9.99
Assortment Number:
E6265/E6255
SKU:
6 30509 83658 1
What's In The Box?
Darth Vader Action Figure
Removable Vinyl Cape
Red Lightsaber
How Is It Different From The Original?
The Darth action figure on this page features both sculpted and printed identifiers on its legs to distinguish it from the original Kenner action figure.
The Vinyl Cape included with this figure is thicker than all those produced during the Kenner era.
Photography & Text by D. Martin Myatt
Page built by Adam Lamping
comments powered by

Disqus