PROMOTIONAL EARLY BIRD CERTIFICATE AND ACTION FIGURE SIX PACK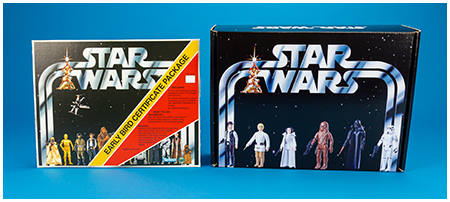 The Retro Collection
Leading up to The Retro Collection's retail release, Hasbro, by way of Litzky Public Relations, sent out envelopes to a select group of Star Wars media sites. These envelopes contained a very cool reproduction of the original Early Bird kit released by Kenner in 1977. It included a reimagining of the sticker sheet included in the original set (scaled up and with different details to prevent confusion) and a note stating that the first six action figures were on their way, and the wording was just vague enough to make the parcel that arrived two days later a very special surprise.
What came next was the black printed box that borrowed the art from the Early Bird cardboard backdrop packed in the original kit as well as the send away Action Figure Display Stand advertised on the back of the 1978 12-back action figure cards. The box held all six of the action figures in The Retro Collection's initial release.

Product Information
Manufacturer:
Hasbro
Source:
A New Hope
Year:
2019
Original Retail Price:
N/A
Assortment Number:
N/A
SKU:
N/A
What's In The Box?
Chewbacca Action Figure
Darth Vader Action Figure
Han Solo Action Figure
Luke Skywalker Action Figure
Princess Leia Organa Action Figure
Stormtrooper Action Figure
Early Bird Certificate
Stickers
Photography & Text by D. Martin Myatt
Page built by Adam Lamping
comments powered by

Disqus