X-34 LANDSPEEDER WITH LUKE SKYWALKER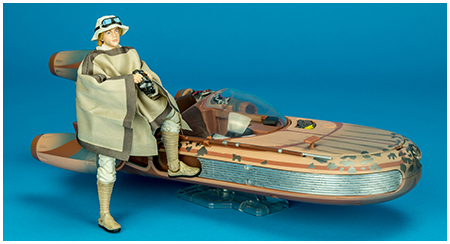 2017 San Diego Comic-Con Exclusive
Luke Skywalker was just a farm boy from Tatooine before beginning his training to become a Jedi. Though he would eventually sell his X-34 Landspeeder in order to buy passage aboard the Millennium Falcon. For much of Luke's youth, this civilian vehicle was his only transport between his homestead and outposts such as Tosche Station and Anchorhead, as well as the Jundland Wastes, Dune Sea, and Beyond. Luke's Landspeeder may have been past its prime when it came into his possession, but careful maintenance restored its hovering abilities and notable speed to working form. When Luke received Princess Leia Organa's message for help from R2-D2, it was his Landspeeder that was able to journey out in search of Old Ben - or as he would come to know him, Obi-Wan Kenobi. Eventually, Luke became an intergalactic legend through through his ties with the Rebel Alliance and his mastery in the ways of the Jedi -but his humble beginnings riding his X-34 Landspeeder across the barren, sandy lands of Tatooine were where this galactic icon got his start.
While the retail version was announced on April 12, 2017, Hasbro didn't reveal the San Diego Comic-Con version of the X-34 Landspeeder & Luke Skywalker set featured here until their panel on the third day of Star Wars Celebration Orlando 2017. Beyond a small quantity allocated for online sales, this SDCC exclusive set was quickly sold out when it went on sale at the Hasbro store at the giant pop culture event the following July.

Product Information
Manufacturer:
Hasbro
Source:
Star Wars: A New Hope
Year:
2017
Original Retail Price:
$89.99
Assortment Number:
C1426
SKU:
6 30509 56054 7
What's In The Box?
Landspeeder 6-Inch Vehicle (six pieces)
Stand
Luke Skywalker 6-Inch Action Figure
6-2Aug2 hunting rifle
Lightsaber with removable blade
Removable Tunic
Poncho
Belt
Sun hat
Macrobinoculars (two pieces)
How To Spot This Version Loose
Engine features a button-activated rotating tumbler
Wear marks on the back trunk area
Wear marks on the hood
Red button on steering wheel
Painted buttons on left side of control panel
Seats are brown
Luke painted in lighter colors
Luke's tunic is a lighter, more transparent fabric
Comparison pictures can be seen in The Black Series standard release X-34 Landspeeder photo archive page.
Photography and Text by D. Martin Myatt
Page built by Adam Lamping
comments powered by

Disqus