Words & images by D. Martin Myatt, Adam Lamping, Jay Shepard, & Nick Napoli


April 13-16, 2017
For the first time in its eighteen year history,
Star Wars
Celebration returned to the same venue for a third time as they opened the doors at Orlando, FL's Orange County Convention Center on April 13, 2017.
Star Wars
Celebration Orlando 2017 brought fans from all corners of the globe together for four amazing days on living
Star Wars
. This event also marked our first American Celebration in a booth not in the autograph arena, giving us a chance to meet even more fellow collectors in the main exhibit hall. Celebrating the 20th Anniversaries of Rebelscum and our sister site TheForce.net, we saw this as an opportunity to give away three enamel pins and two stickers through swag trading and through our
Is Your Midi-Chlordan Count High Enough To Blow Up The Death Star
contest. As always, we also chose to photograph stuff instead of eating, so we have no shortage of galleries for you to check out...
ANOVOS
Continuing To Offer The Clothes We Want To Wear Every Single Day Of The Year!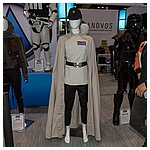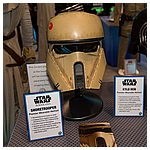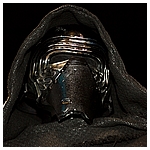 The ANOVOS booth publicly displayed for the first time their amazingly detailed Director Krennic, Imperial Death Trooper and Jyn Erso ensembles, Han Solo's new jacket, and Stormtrooper Commander, Shock Trooper, Shoretrooper, and Imperial Tank Trooper Premier Wearable Helmets, along with their Luke Skywalker "Bespin" Alliance Fatigues, Kylo Ren, First Order Stormtrooper Commander, Rey (Jakku Scavenger), Imperial Stormtrooper ensembles, and more!
BLUEFIN DISTRIBUTION
Tamashii Nations' Meisho Movie Realization Line Reveals New Figures!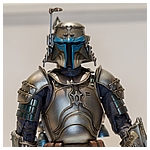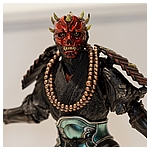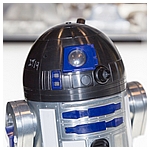 Tamashii Nations revealed their
Meisho Movie Realization
Jango Fett, Darth Maul, and 2017 San Diego Comic-Con exclusive prototype armor Boba Fett action figures as well as the first public showing of their 1/6 scale Diecast
Perfect Model Chogokin
R2-D2 figure at Bluefin's Celebration Orlando 2017 booth. Click the thumbnails above to have a closer look!
Bandai Hobby Brings Out The Big One!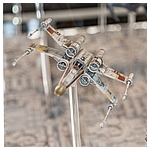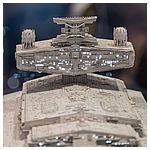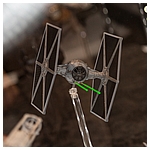 Beyond displaying the models we saw at the
International Toy Fair
two months earlier, Bandai Hobby showed off a beautiful Death Star battle diorama and an absolutely stunning Star Destroyer model. The former makes us want to buy multiples of the 1/72 scale kits and the latter has us making room for its future home in our collections!
The Beast Kingdom Egg Attack Retrospective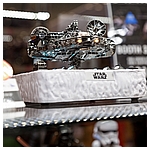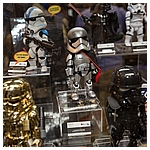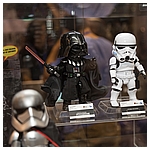 The only new
Star Wars
collectible in the Beast Kingdom cases within Bluefin Distribution's booth, the very cool Celebration Orlando 2017 exclusive chrome Millennium Falcon fit in nicely with the other items in their
Egg Attack
Action Series retrospective display.
CELEBRATION STORE
Event Exclusives Available Here First!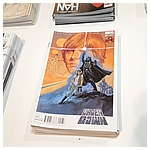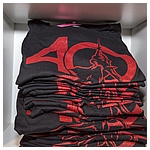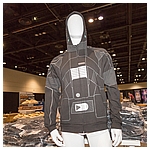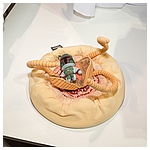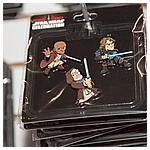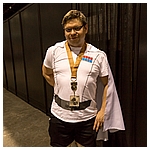 The Celebration Orlando 2017 Store felt a bit more conservative than we've seen in years past, but attendees were more than happy to make their way through the large pavilion with arms full of cool new exclusive items. Of them all, the character pins and the Yavin Medal Lanyard (modelled by Travis Allen in the gallery linked above) were the big winners.
COMIC IMAGES
Keeping The Forty Year Old Franchise Looking Cute!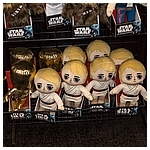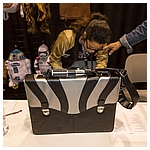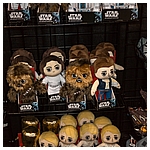 To commemorate the
40th Anniversary
of our favorite franchise, Comic Images has released a new series of plush dolls based on the characters of the original feature film,
A New Hope
. In addition, they were showing off their new Darth Vader inspired briefcase.
EFX COLLECTIBLES
Our Love For Chrome Is Rewarded With Two Stunning New Collectibles!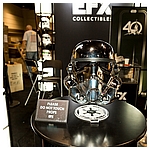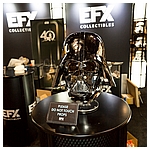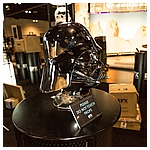 Two chrome helmets flank the EFX Collectibles' Celebration Orlando 2017 booth. On the left is the Stormtrooper helmet made exclusively for this event and on the right the 2017 San Diego Comic-Con exclusive Darth Vader Chrome helmet.
Beyond The Chrome There Was Far More That Shined!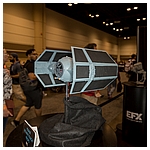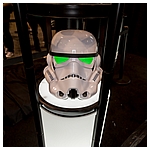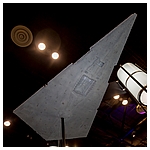 EFX Collectibles had many more items on display, including a selection of helmets for sale and an assortment of vehicle replicas that left many mouths agape.
FUNKO
Pop!-ping The Money Out Of Many Collectors Wallets!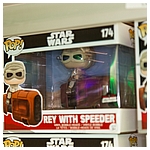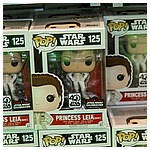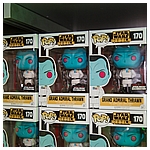 We're not certain if it's popular demand or intentional strategic under-supplying, but there is no exaggeration in stating that every day of Celebration Orlando 2017 the Funko booth crew were left with nothing to do well before the doors closed every evening of the event.
GENTLE GIANT LTD
Many New Collectibles Revealed!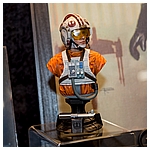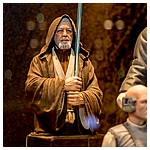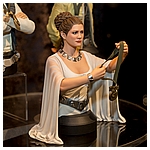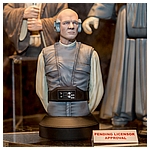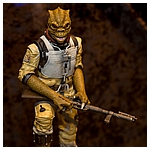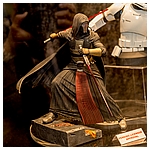 Visiting the Gentle Giant Ltd. Celebration Orlando 2017 booth was a treat! New items in their display included the AT-ACT Bookends, The first public appearance of the Shoretrooper, Bistan, Finn, and Princess Leia Organa (Yavin Ceremony) Mini Busts, product reveals of the Bossk and IG-88 from a new Bounty Hunter themed statue collection, the first public showing of the paint masters of the Premiere Guild exclusive Darth Revan statue, Lobot, First Order Riot Control Stormtrooper, and Ben (Obi-Wan) Kenobi Mini Busts, and Jumbo Kenner The Emperor action figure. In addition, they revealed their San Diego Comic-Con exclusive Luke Skywalker (X-Wing Pilot) and
A New Hope
Darth Vader Classic Busts. Click the thumbnails above to have a closer look!
What's The Deal With The Shoretrooper Statue?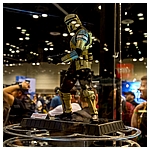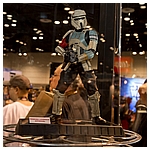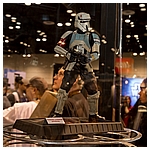 On display by itself, we found a Shoretrooper 1/6 scale statue. Technically speaking, this isn't a product reveal, as there are no firm plans for its production. It's just simply something cool. That said, if enough people make a point to bring it up in conversation, we're certain Gentle Giant will offer it.
HASBRO
First Look At The Hasbro 6-Inch Action Figures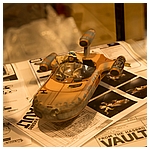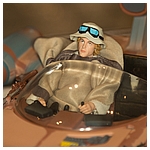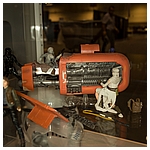 Even though they were still putting together their booth on the Celebration Orlando 2017 exhibition floor when we shot the gallery above, Hasbro was kind enough to let us play with their toys. Click the thumbnails above to view our first gallery which features detailed turn around images of
The Black Series
Luke Skywalker's X-34 Landspeeder and Rey (Scavenger) Speeder (Jakku) 6-inch sets, the
40th Anniversary
Death Squad Commander, Jawa, and event exclusive Luke Skywalker: X-Wing Pilot 6-inch action figures, as well as the first two pieces in the
Centrepiece
collection!
First Look At The Hasbro Rogue One Action Figures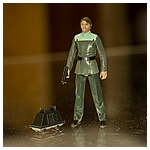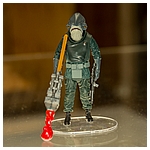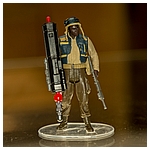 After we got our fill of the 6-inch stuff, we put our hands on the new 3 3/4-inch action figures. Click the thumbnails above for the turn around gallery featuring the 3 3/4-inch Admiral Raddus, Fenn Rau, Lieutenant Sefla, Galen Eros single carded
Rogue One
action figures!
The Forces of Destiny Adventure Figures Revealed!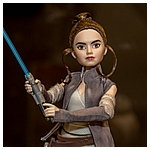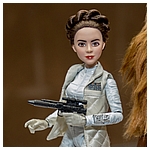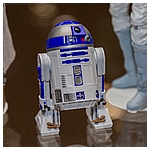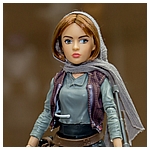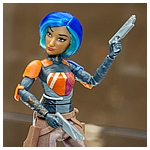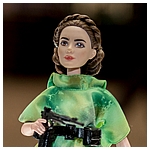 Fans making their way into the Celebration Orlando 2017 exhibit hall on the first morning of the event were surprised to see the first publicly displayed assortment in the new 11-inch tall
Forces of Destiny
Adventure Figures collection. Click the thumbnails above to view the full gallery of the Rey & BB-8, Jyn Erso, Princess Leia Organa (Hoth Outfit) & Artoo-Deeto (R2-D2), Chewbacca, Sabine Wren, and Princess Leia Organa (Endor Battle Gear) & Wicket Adventure Figures on display!
Hasbro's Grand Admiral Thrawn, Commander Gree, & More Forces Of Destiny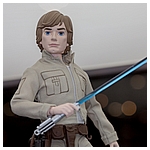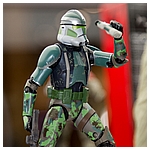 Hasbro was busy sneaking new figures into their booth over the first two days of Celebration Orlando 2017, and even though we knew there was going to be a lot of new products added later, we thought you'd appreciate this time capsule of what was on display on Saturday April 15th, hence the gallery above. Click the thumbnails to check out
The Black Series
6-inch Grand Admiral Thrawn and Commander Gree as well as some new figures and accessories for the
Forces Of Destiny
Adventure Figures collection!
Hasbro Star Wars Panel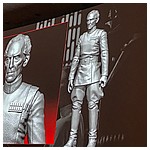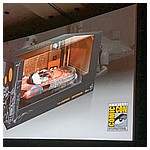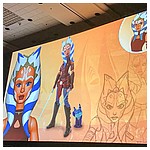 On the third day of Celebration Orlando 2017, Attendees made their way to the Hasbro
Star Wars
Panel, completely unaware that they were about to enjoy the best ever presented.
Mark Boudreaux started the presentation off with some amazing nostalgic Kenner items. He discussed how he made models out of cardboard and foam core, and how prototypes had scale issues back then as well. The Tyderium shuttle was previously much bigger and then subsequently paired down to smaller model.
Mark then discussed some post
Return Of The Jedi
pitches to Lucasfilm to continue the line after the movies. Some were trying to cover the prequel period, back in 1984. Kenner also had a production model Imperial Outpost play set and
The Empire Strikes Back
concept for a Hoth "Tow Truck."
Hasbro unveiled an additional character, Ahsoka Tano with flocked loth cat for their
Forces of Destiny
line. This doll will have eleven POA and be available in August.
Moving on to
The Black Series
, Hasbro noted that there are over 160 six-inch figures produced so far. They expressed how grateful they are for the fan photos of this line, seeing it as positive feedback that the line is resonating with fans.
Moving on to
The Black Series
six-inch figure vehicles, Hasbro noted that there will be several on the horizon, starting with Rey's speeder and Luke Skywalker's X-34 Landspeeder, the former features moving panels, handles, pedals and a retooled Rey action figure. The latter features a new head sculpt for the young moisture farmer with a mind set on power converters. The San Diego Comic-Con version of the Landspeeder set will include moving parts in the engine!
Some big reveals on
The Black Series
six-inch single figure line. These will be in the square boxes and not cardback. First up was a surprise: Grand Moff Tarkin! The figure sports a nice sculpt of late actor Peter Cushing. Since he had no accessories in the movie he comes with an interrogation droid.
Following Tarkin, They showed us the
Fan's Choice
Jaina Solo action figure. Since there was no actor to work off of for this one, Hasbro created a composite based on the likeness of Carrie Fisher and Harrison Ford. They split the look between Jedi warrior and pilot, so the helmet and flight jacket are removable.
Hasbro then showed off the 2017 San Diego Comic-Con exclusive Grand Admiral Thrawn from
Star Wars Rebels
. The 6-inch action figure comes packed in an oversized box along with an assortment of items including Commander Gree's Phase II helmet and the Holy Grail from
Indiana Jones And The Last Crusade
, and more. They noted that more characters from
Rebels
were forthcoming in this line.
Lastly, Hasbro briefly discussed Commander Gree, stating the 6-inch action figure has over 300 paint applications where the average figure has 90.
Closing out Hasbro showed a video revealing Project "
Duffy
", which turned out to be a reveal of
The Vintage Collection
returning in summer 2018. The 3.75-inch scale super articulated action figure line will be available at all retailers and will feature figures from all the movies and shows. Hasbro wants to get back to making things like "freaky aliens".
Hasbro's Post-Panel Reveals
Following Hasbro's best panel ever, their team put out the amazing packaging for the San Diego Comic-Con edition of
The Black Series
6-inch Grand Admiral Thrawn, which includes a totem we swear is based on the big rock thing from
The Dark Crystal
, the Holy Grail from
Indiana Jones And The Last Crusade
, Commander Gree's Phase II bucket, a generic Lightsaber hilt, a Jedi Temple Guard helmet, and Hera Syndulla's family Kalikori. In addition, they also added to another display the just announced Jaina Solo, Grand Admiral Thrawn, and
Battlefront II
Inferno Squadron Pilot
The Black Series
6-inch figures. Click the thumbnails above to see what you will be handing over your hard-earned mooney for in the next twelve or so months.
Hasbro's San Diego Comic-Con Exclusive Version Of The Black Series Luke Skywalker's X-34 Landspeeder Set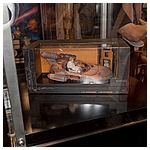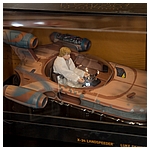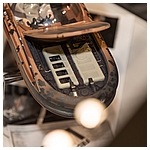 After announcing it in their panel the day before, Hasbro added a boxed sample of the San Diego Comic-Con version of
The Black Series
Luke Skywalker's X-34 6-inch set to their Celebration Orlando 2017 booth on the last day of the event. Click the thumbnails above to have a closer look at this awesome exclusive!
Also On Display...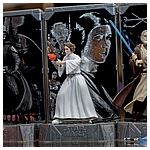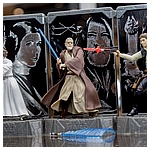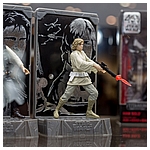 Not to be overshadowed by all you've seen above,
The Black Series Titanium
figure collection was publicly displayed for the first time at Celebration Orlando 2017.
HOT TOYS
Want It. Want It. Want It. Want It...
Displaying in a portion of their distribution partner's booth, the Hot Toys display was a never-ending list of must have collectible figures! Beyond
the figures on display at the 2016 San Diego Comic-Con
, attendees were treated with the first public appearance of their Royal Guard collectible figure along with the first North American public showing of the Han Solo (Stormtrooper Disguise Version), and all the
Rogue One
collectible figures. Each was beautiful and we can't wait to add them to our collections!
KOTOBUKIYA
Keeping Us Wanting More In The 1/10th Scale!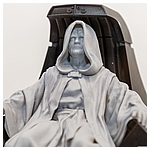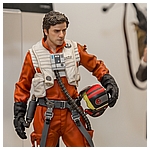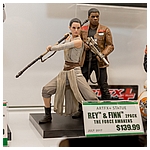 Kotobukiya has many new items on display in their booth at the Celebration Orlando 2017 including the reveal of the Emperor Palpatine ARTFX+ statue, as well as the first North American public display of their Rey & Finn, Poe Dameron & BB-8, and FN-2199 ARTXF+ sets. Click the thumbnails above to have a closer look!
Obi-Wan Joins The Gang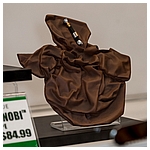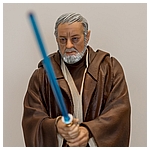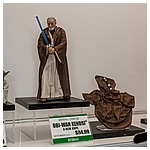 Teased over the first couple of days by the displaying of only what remained after the old Jedi became more powerful than you can possibly imagine, Kotobukiya updated their display to include their upcoming Obi-Wan Kenobi ARTFX+ 1/10 scale pre-painted model kit statue.
LEGO
Possibly The Most Addictive Thing Made Out Of Plastic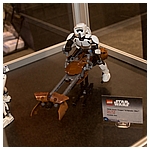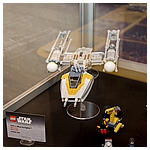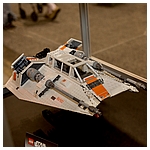 Acting as a beacon and drawing in the for their plastic fix was a huge LEGO logo cube hanging from the ceiling, and as usual the allure of the LEGO stand was not inconsequential. Broken down into four main areas, the LEGO
Star Wars
display consisted of:
By square footage the opportunity to take part in constructing a giant 200,000 Millennium Falcon out of 2 x 4 bricks was the biggest section. Hundreds of attendees took time over the course of the four day event to help put the behemoth together, but only a handful of LEGO employees had the privilege of breaking it down and sweeping up afterwards.
Adjacent to the mega Falcon were two hands-on building areas: not surprisingly one was a make-and-take with a small scale Millennium Falcon on offer (which was exactly the same as the Celebration Anaheim 2015 exclusive but without the printed base plate), while the other was a chance to design and realise a simple 16 x 16 mosaic which was put up on a communal display board. The more inventive participants made a sequence of mosaics that created a popular
Star Wars
scene. It was heartening to see that the display walls filled up every day, apart from the last when attendance at Celebration Orlando 2017 dropped.
The biggest pull of the event was the Detention Block Rescue, an exclusive vignette that LEGO had designed to mark the 40th Anniversary of
Star Wars
:
A New Hope
. A daily lottery was held for those who pre-registered, however those who used the Dark Side to perform Sith mind tricks were able to walk away with more than their allotted share. This had a knock-on effect so that on the last day there weren't enough to go around.
Lastly was the display area with all upcoming UCS Snowspeeder and Summer 2017 sets on display alongside an assortment of Rogue One sets that are currently available at retail.
LOUNGEFLY
Wallets And Purses And Bags, Oh My!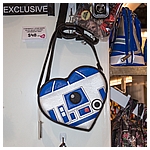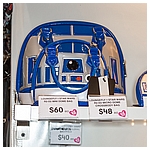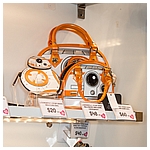 Loungefly offered a few Celebration Orlando 2017 exclusive items in their booth including the Wicket W. Warwick and Artoo-Detoo purses, the reversible Darth Vader / Stormtrooper tote bag, and the classic
Star Wars
backpack.
MATTEL
More Star Wars Themed Cars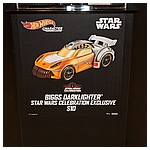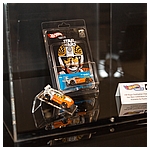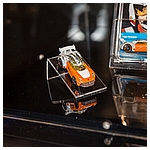 While much of their display was revealed at the 2017 International Toy Fair, Celebration Orlando 2017 marked the first public display of Mattel's
40th Anniversary
Hot Wheels Character Cars, Carships, and Starships.
POPMINDED BY HALLMARK
So Much Cool. So Much Awesome.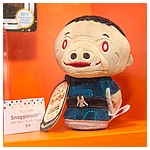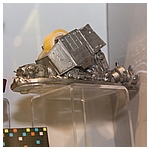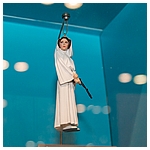 We'd love to just talk about PopMinded by Hallmark's classic action figure inspired
Star Wars Ittybittys
Snaggletooth (red and blue), Hammerhead, Greedo, and Walrus Man plushies on classic Kenner style vintage cards -which we can't express how much we love passionately- but there was way more '
Want It
' cool stuff on display than there was '
Let's get back to those classic action figure Ittybittys
' meh stuff. Our favorite (non classic action figure
Ittybittys
) items were the Darth Vader and AT-AT office items; which we can't wait to own even though they aren't as cool as the classic action figure
Ittybittys
stuff... We're still coming to terms with how much we love the classic action figure
Ittybittys
. (we may never get over those five
Ittybittys
, because, you know. Classic Kenner.)
PROP STORE
Continuing To Give You The Chance To Own What You Fell In Love With On The Silver Screen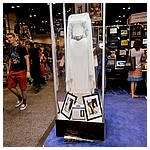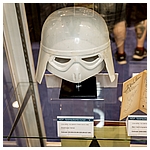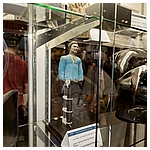 The Prop Store displays are always fun to see, giving event attendees the rare chance to see behind the movie magic. For their display at Celebration Orlando 2017, the British company let let fans have a close look at Princess Leia Organa's gown from the Yavin ceremony, a promotional tour Darth Vader helmet, the Lando Calrissian puppet used in the scene of him rescuing Luke from the underside of Cloud City, and Richard Marquand's
Revenge Of The Jedi
crew gift plate among a collection of other cool artifacts. None of the items in the cases were for sale at the event, so if interested, you should
check out their site
.
ROYAL MAIL
This Stuff Didn't Last Long...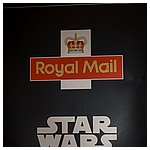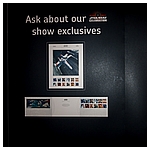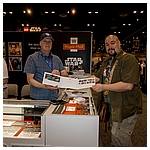 Royal Mail seemed to hit the mark with many attendees, as they were sold out of some of their exclusives early on, but there was still a lot of cool things to look at in their booth displays.
SE7EN 20
The Rebranding Of Underground Toys Makes Its First Public Showing!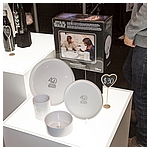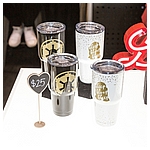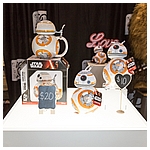 The product line transitioning Underground Toys to Se7en 20 that we wrote about in
our 2017 International Toy Fair coverage
was publicly displayed in their booth at Celebration Orlando 2017. Click the thumbnails above to view the full gallery of product reveals!
SIDESHOW COLLECTIBLES
Many New Collectibles Shown Publicly For The First Time!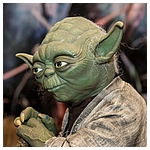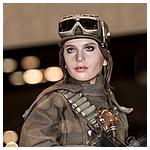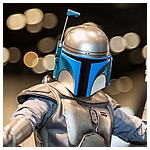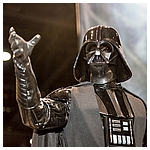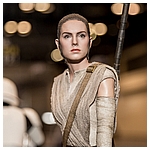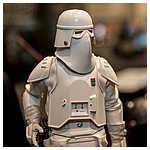 Sideshow Collectibles made it to the Orange County Convention Center for the first time to be a part of Celebration Orlando 2017 giving collectors their first in-person look at their upcoming
The Empire Strikes Back
Snowtrooper Commander,
Rogue One
TIE Pilot, and C2-B5 Imperial Astromech Sixth Scale figures and the
Return Of The Jedi
Boba Fett,
The Force Awakens
Rey & BB-8, and
Rogue One
Jyn Erso and Imperial Death Trooper Premium Format Figures. In addition, they filled their displays with other upcoming products previously shown at the
2016 San Diego Comic-Con
.
THINKGEEK
Keeping The Novelty Fresh Year After Year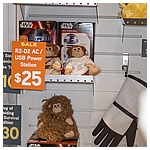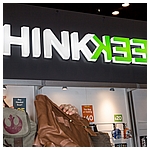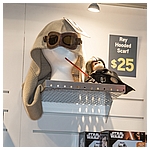 You don't need all this stuff, and chances are it all doesn't fit into your focus collection unless you're our good friends Steve Sansweet or Duncan Jenkins, but there is little doubt that there were at least a couple must-have items available at ThinkGeek's Celebration Orlando 2017 booth, and that's what makes them a company to watch in our eyes.
UNCLE MILTON
Where Science Meets Celebration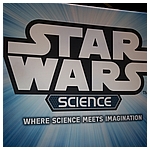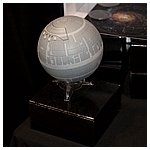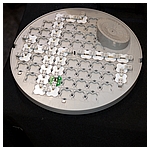 Proving that there are many
Star Wars
fans fascinated with things that exercise their grey matter, Uncle Milton sold out of virtually everything they brought, and even the products used as demos and for booth display were sought after!
WE LOVE FINE
The Force Is Strong With WLF's Latest Fashions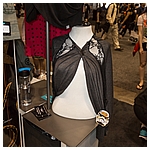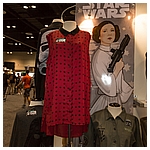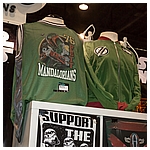 There seems to be no stopping We Love Fine, as they continue to produce
Star Wars
inspired clothing that so perfectly compliments current fashion trends, allowing ladies (and gentlemen on a smaller scale) to feel the Force and look great at the same time!
OTHER FUN STUFF
Star Wars Collectibles Update Panel
Many attendees that made it out to Celebration Orlando 2017's second day made their way to the
Star Wars
Collectibles Update panel which featured representatives form Royal Selangor, Gentle Giant Ltd., Sideshow Collectibles, Hot Toys, Tamashii Nations, Bandai Hobby, EFX Collectibles, Kotobukia, and ANOVOS. For the most part, the presentations covered items already announced and on display on the main exhibit hall, but there were a few exciting new items announced and teased including Sideshow Collectibles'
The Empire Strikes Back
Han Solo and Luke Skywalker
Premium Format Figures
, Hot Toys'
The Empire Strikes Back
Princess Leia (Hoth Gear Version),
Return Of The Jedi
Emperor Palpatine, and
Return Of The Jedi
Jedi Knight Luke Skywalker
Movie Masterpiece Series
1/6 scale collectible figures, Kotobukiya's
Return Of The Jedi
Jedi Knight Luke Skywalker ARTFX+ 1/10 scale pre-painted model kit statue, Tamashii Nations'
Meisho Movie Realization
Shadow Trooper figure, and ANOVOS' customizable Mandolorian Jetpack Accessories! Based on what we've seen, high end collectors may want to burn the midnight oil. It's going to be a cost year of excellent new products!
Attendees In Costumes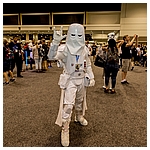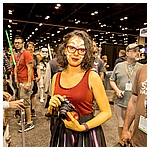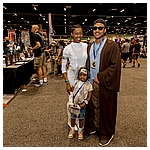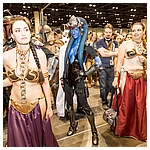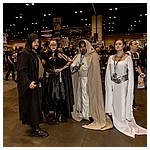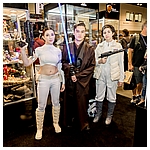 A Celebration just isn't a Celebration without attendees in costumes, and our Celebration Orlando 2017 couldn't be complete without a gallery showing off some of those costumes. Click the thumbnails above to have a look at the gallery we shot!
Collecting Track: A Collector's Journey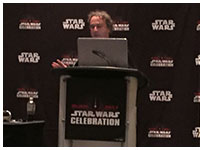 Gus Lopez has been organizing the Collecting Track since the very first Celebration in 1999 and it was he that presented the Collector's Journey panel. Click through for
the details
.
Collecting Track: Fakes And Scandals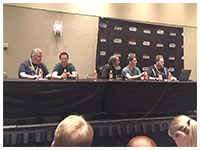 Sadly, as a result of the money that people are willing to spend on
Star Wars
, this often results in less scrupulous individuals selling fake items and scamming collectors to make a quick buck, or in some instances, a lot of money over an extended period of time.
Click through to find out some of the major scandals over the years
.
Collecting Track: Hallmark Collectibles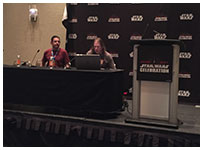 Duncan Jenkins and James Burns took a break from their LEGO panel to talk about another passion of theirs, Hallmark Collectibles. Click through to
find out what they discussed
during the panel.
Collecting Track: Social Media And Networking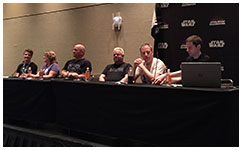 Social Media And Networking was the subject of the next Collecting Track Panel that we covered at this year's
Star Wars
Celebration. Click on this link to
read what was covered
during the panel.
Collecting Track: The Funko Pop! Vinyl Explosion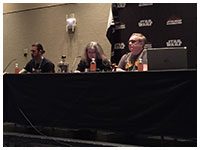 The first Collecting Track Panel that we covered at this year's
Star Wars
Celebration was The
Star Wars
Funko Pop! Vinyl Explosion, and you can read the main points discussed during the panel by clicking on
the full report linked here
.
Collecting Track: Time Travel To Toy Factories Around The World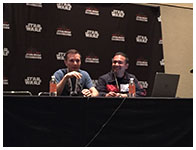 Chris Georgoulias and Luis Galvez presented this panel on the final day of
Star Wars
Celebration, taken everyone back to a time when Kenner toys were being made in toy factories around the world. Check out what they shared by clicking on
the full report
link.
Collecting Track: Vintage Theatrical Advertising And Collectible Ephemera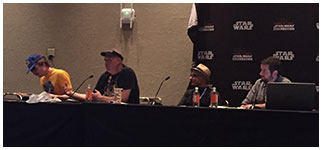 Star Wars
at the Movies: Vintage Theatrical Advertising And Collectible Ephemera was meant to be presented by a panel that comprised Stephen Danley, Ron Salvatore, Todd Chamberlain and Skye Paine, though the latter was noticeable by his absence. Follow the link to
learn more about what was shown
during the presentation.
The Rancho Obi-Wan Experience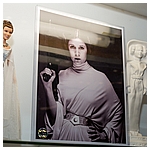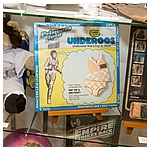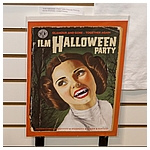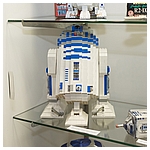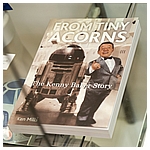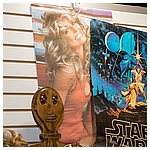 Once again, our friends Steve and Anne, along with help from Bob, Susan, and an entire legion of their best troops brought the Rancho Obi-Wan Experience to Celebration, and like all their previous exhibits, this one impressed everyone that went to see it. Leaving no fan behind, the gallery linked above features every item on display.
Lucasfilm Publishing Panel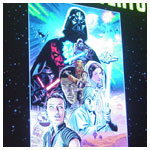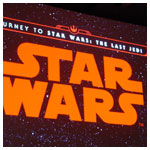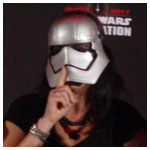 Billed as the "Lucasfilm Publishing Writers' Roundtable" on April 14, 2017, from 4:30-5:30 PM, on the Behind-The-Scenes Stage at
Star Wars
Celebration Orlando, the panel started out as a writer's workshop to discuss fan questions sent in via Twitter.
Moderated by Lucasfilm's Michael Siglain and Jennifer Heddle, and featuring Timothy Zahn (Heir to the Empire, Thrawn), Beth Revis (Rebel Rising), Delilah Dawson (The Perfect Weapon), Charles Soule (Poe Dameron, Darth Vader), Michael Kogge (Poe Dameron Flight Log), Jason Fry (Rogue One Rebel Dossier), and Ben Acker & Ben Blacker (Join the Resistance), the panel discussed their approach to writing, and their love and passion for
Star Wars
in general.
Partway through the presentation Timothy Zahn departed to be replaced with Christopher Ellis, an editor from IDW Publishing to discuss their comics that are created by them, including the Micro-Comic packs, the Artists' Editions, and the Newspaper Strip reprints. He then announced a new, all-ages comics called
Star Wars Adventures
, that would be published by IDW soon.
Then they announcements came fast and furious. They showed off covers for the new
Forces of Destiny
titles from Disney Publishing, which are books for younger readers, and feature 3 stories in 1 book. The first two volumes focus on the women of the
Star Wars
saga including Sabine, Rey, Padmé, Leia, Ashoka and Jyn.
They also discussed the previously announced titles including:
Rebel Rising
(Beth Revis),
Guardians of the Whills
(Greg Rucka), and
The Rise of a Hero
(Louise and Walter Simonson), the first title in the
Star Wars
40th branded line of books.
Michael Siglain then revealed the newest Little Golden Book,
I Am A Hero
, and the oddly-titled,
99 Stormtroopers Join The Empire
, as well as Ben Acker and Ben Blacker's newest
Join the Resistance
title,
Escape from Vodran
.
There were pictures of covers for
Star Wars
Coding Projects from DK, the new look of
Star Wars Insider
, becker&mayer!'s
On The Front Lines
, Chronicle's
Star Wars Super Graphics
, and Disney Press's
BB-8 On The Run
(Drew Daywalt and Matt Myers) which will tell the tale of the droid between leaving Poe and joining up with Rey.
Star Wars
Reads Day was announced but instead of a day, or a week in October, it will be the entire month!
Then, the fans got what they came for, with the announcement of the branded storyline,
The Journey to The Last Jedi
. Delilah Dawson was asked if she had an a announcement, and she put a Captain Phasma mask on to the delight of the crowd! Her book,
Phasma
, will be part of the "Journey to" storyline, and come from Del Rey starting in September.
Other titles announced but not discussed include:
a Captain Phasma 5-issue mini series from Marvel, by Kelly Thompson and Marco Chichetto
Leia: Princess of Alderaan, a YA novel by Claudia Gray
The Legends of Luke Skywalker by Hugo and Nebula award-winner Ken Liu
Star Wars Made Easy from DK
Moviemaking Magic: Creature and Aliens from Abrams
Insight Editions Incredibuilds A-Wing and BB-8
Egmont UK's Stealth Missions and Annual 2018
Star Wars Kirigami from Chronicle Books
Star Wars Keepsake Coloring Book featuring art from Katie Cook
The Power of the Force 8x8
A Leader Named Leia, one of the World of Reading Titles
an Updated version of Absolutely Everything You Needed To Know About Star Wars, by Cole Horton
Harper Colins' Stormtroopers: Beyond the Armor
and Star Wars: Rebel Files from Becker & Mayer! (and written by Daniel Wallace) which is anotger in their deluxe line of books inside a mechanical case (The Jedi Path), and allows you to project the Death Star plans!
Black & White Gallery: The End Of An Era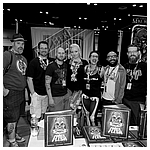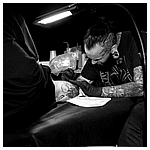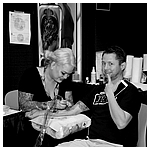 Celebration Orlando 2017 marked the end of an era for fellow Scummer Shane Turgeon. My paisano first showcased the amalgamation of fandom and indelible art while the two of us collaborated on a fanzine well before either of us joined the Rebelscum team. He started the conversation of
Star Wars
tattoos in 2002 with the launch of his
Tattoos and Toys
, and fully realized the vision with
the tattoo pavilion at Celebration V in 2010
. This week's event closes this chapter in Shane's life, and the entire Rebelscum team is honored to stand beside him as he saw this journey to its end. Marking this turning point, the above linked gallery will feature our only black & white Celebration images. We can't wait to see what our boy has planned next!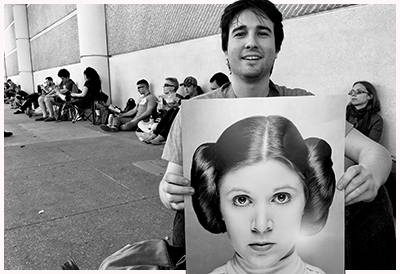 A Celebration without you just isn't the same. We miss you Carrie. So much.
Celebration Orlando 2017 Special Feature page edited by D. Martin Myatt. The LEGO portion of this feature was written by Jeremy Beckett. All other text and all photographs on this page by D. Martin Myatt, Adam Lamping, Jay Shepard, & Nick Napoli.