1983 STAR WARS
BURGER KING COLLECTOR GLASSES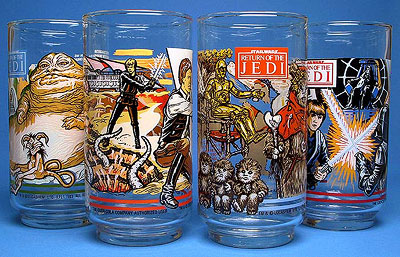 Source: (Return of the Jedi)



Year: 1983

Assortment: Collector Glasses

Retail: Free with purchase of a drink

Assortment Number: None

UPC Number: None

Packaging Variations: None

Weapons and Accessories: None

Jabba's Court: Intergalactic gangster, Jabba the Hutt, reclines on his throne with Salacious Crumb, while Princess Leia Organa is held captive beside him by a pig-like Gamorrean Guard. The Max Rebo Band provides entertainment for the court.

Sarlacc Pit: In the Tatooine desert, Han Solo takes aim with his laser pistol while Luke Skywalker brandishes his Jedi lightsaber above the Sarlacc Pit. In the background, Jabba the Hutt's giant sail barge bursts into flames.

Ewok Village: At the Ewok village on the green moon of Endor, Chief Chirpa holds his staff preparing to go into the forest, while Wicket W. Warrick inspects R2-D2. Over on the village square, baby Ewoks surround the golden droid, C-3PO.

Emperor's Throne Room: In the Emperor's throne room, Luke Skywalker confronts Darth Vader in a desperate lightsaber battle. The Emperor, supreme ruler of the galaxy, is accompanied by a red-helmeted Emperor's Royal Guard and one of teh Imperial Dignitaries.

Point of Interest:
State laws prohibited the sale of glass cups in Massachusetts, so a plastic version was made and sold exclusively in that state.

Back To Resturant Collectibles