C-3PO (Gold-Plated)


Source:
(A New Hope)

Year: 2005

Assortment: Statues

Retail: $165.00

Item Number: 5681

UPC Number: 871810000197

Limited Edition No.: 1078 of 3000

Weapons and Accessories:
Base
Certificate of Authenticity
Comments: C-3PO is a protocol droid with programming in language translation and interpretation. He is fluent in over six million galactic languages, is equipped with a broadband antenna receiver, and can reproduce any sound he hears, translating mechanical beeps into human language. Protocol droids are required to maintain relations between multiple cultures in the galaxy and are often used as aides to diplomats and traders.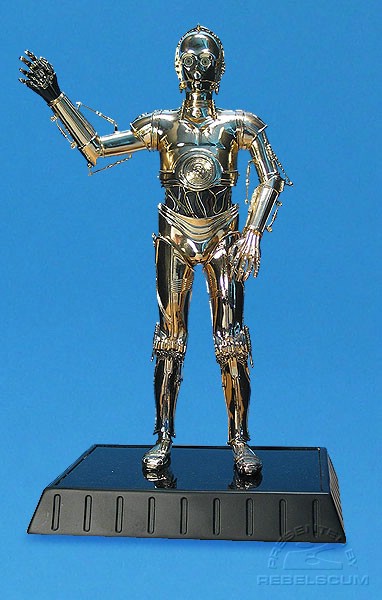 Roll over image above to see C-3PO from all angles!

Points of Interest:

This highly-detailed statue, based on the original Lucasfilm digital data, was sculpted and painted by Gentle Giant Studios.
Photography by Dave Myatt

Back To Statues