The Meccano to Trilogo Matrices

In October 2006 Stephane Faucourt released Meccano to Trilogo - a softcover, 144 pages, full-colour book covering vintage Meccano and Trilogo lines. The book also contains two incredibly detailed but work-in-progress matrices that attempt to catalogue all known Meccano and Trilogo Back Card combinations.
Rebelscum.com is pleased to have partnered with Stephane Faucourt to create the "Meccano to Trilogo Book Matrices" section as we did before with the Kellerman matrices.

Download Trilogo Card Combinations Matrix (updated: v1.2 October 31, 2009)
Download Meccano-Trilogo Vehicles / Playset Matrix (updated: v1.1 October 31, 2009)
To help complete the matrices, collectors are encouraged to send submissions to your Rebelscum contact for France at stephane@rebelscum.com
---
Submission Guidelines:
In order to ensure that each submission is accurate we ask that you adhere to the following guidelines when submitting photos.
For a new combination where there is only one Front for a Back and vice versa, only a clear photo of the card front is required.

For a new combination where multiple Backs exist for a single Front the card must be clearly photographed using a mirror with the front and back together. Please see the photo below for an example.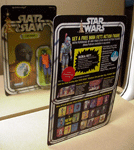 Only Meccano and Trilogo cards will be accepted. For example, Palitoy or Clipper cards used for the UK and Belgium market will not be taken in account.

We reserve the right to decline any photos of items we feel are suspect or tampered with.
With your continued help the Meccano to Trilogo Book Matrices will be one step closer to completion!
Related Links:
Meccano to Trilogo Book: Meccano to Trilogo website
Rebelscum's Book Review: Star Wars Vintage Action Figures: A Guide For Collectors
Trilogo SWCA Feature: A Journey Into Trilogo and Bubble Variations