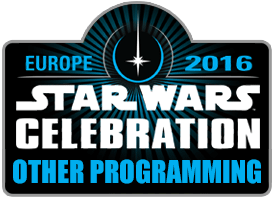 Return to Survival Guide
There's much more to do then then attend panels, or stand in line for autographs! Here's a list of some of the non-scheduled programming that's happening during the convention
ART SHOW
The Star Wars Celebration Art Show brings together talented artists from around the world—each having passed a panel of Lucasfilm judges to earn their place in the show. Each artist has crafted an exclusive Star Wars art print to be sold in limited numbers throughout the weekend.
COLLECTING TRACK
Collecting Star Wars is a favorite hobby for some, and an obsession for others. The Collecting Track at Star Wars Celebration Europe will feature in-depth information on a variety of topics from mainstream to delightfully obscure.
COSPLAY CONTEST
Star Wars Celebration's Cosplay Contest is currently scheduled for Friday, July 15, 2016 on Celebration's Main Stage, but the day of the Contest could change. Contestants must be available to appear in costume both on the morning and afternoon of this day.
BIKER SCOUT HELMET PROJECT
Much like the Vader and Stormtrooper helmet projects before, this display presents artists interpretations using the Biker Scout helmet as the canvas. The fantastic helmets will be on display at Star Wars Celebration Europe, and then auctioned after the show to benefit the Make-A-Wish Foundation.
FILM SCREENINGS
Sceenings of A New Hope and The Force Awakens will be taking place for attendees of Celebration Europe 2016.
THE PROPS & COSTUMES OF ROGUE ONE
Fans attending Star Wars Celebration can look forward to yet another exclusive experience that only Celebrations can provide: a sneak peek at some of the costumes and props that will be featured in Rogue One: A Star Wars Story, curated especially for the show.
TATOO PAVILION
The following is a list of the tattoo artists appearing at Celebration Europe 2016. Brought together by Shane Turgeon, the author of The Force in the Flesh, and Marc Draven, creator of Ink Fusion, they bring you the biggest and best Celebration tattoo experience to date. With many renowned tattoo artists from points around the world, the expanded Star Wars Tattoo Pavilion will be the place to see and be seen in the Celebration Experience Exhibit Hall. For more information on these artists, visit starwarscelebration.com.

Adam Hays Alex Ratray Brandi Smart Cale Turpen Charissa Gregson Chris Jones Clara Sinclair Damian Cane Dan Stone David Corden Guy Tins James Woodford Jersey Jay Lu Skywalker Marin Urbanc Matt Difa Mike Bianco Piero Bockos Shannon Ritchie Taylor Heald
Return to Survival Guide