(Commemorative Episode III DVD Collection)
CLONE TROOPERS


Source:
(Revenge of the Sith)

Collection: 3

Year: 2005
(Wal-Mart Exclusive)

Assortment: Multipacks

Retail: $9.99

Assortment Number: 85867/85747

UPC Number: 6 53569 09209 4

Weapons and Accessories: Clone Troopers:


None (Weapons are all attached)
Comments: These specially trained soldiers once served as the mighty Army of the Republic, fighting under the command of their Jedi generals in the Clone Wars. When palpatine executes his sinister plan and issues Order 66, the clone troopers brutally turn against the Jedi at the command of their new master, a betrayal that ushers in the first Galactic Empire.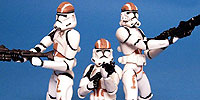 Points of Interest:
DVD Not Included.
Clone Troopers were originally released as Clone Troopers Deluxe set. This time around, they are painted with unique designs.
Photography by Dan Curto

Back To Multipacks